Mind Games on ABC
Category:
Television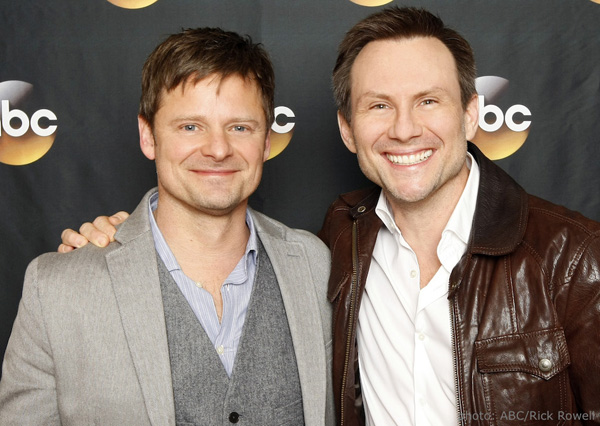 In the new ABC series Mind Games, Steve Zahn and Christian Slater play brothers who are working together for the first time. They set up a business where people come to them for help. Think: Leverage! These guys, along with their crew – although they work similarly to the Leverage characters – work on convincing people to do things more than strong-arming them to do things.
Steve Zahn plays Clark, a bipolar genius that, at times, can be all over the map – not literally. And Christian Slater plays a con artist who has been in prison and now has the brilliant idea of using his brother's intelligence to covertly change people's minds in order to affect certain outcomes.
"[Bipolar disorder] is quite a common disorder and there are many different levels of it," Zahn explained to the Television Critics Association in January. "I mean, there's a lot of people. Actually, I was blown away by how many people I actually knew were bipolar after they found out I was playing a character that had it. I was kind of surprised of how many people I knew."
Slater explained about his character Ross. "He's been arrested. He's conned people. He's manipulated. He's channeled, I think, a lot of his dysfunction in a very unhealthy, sort of sneaky way and now he's trying to channel it in a way that actually can benefit people."
Zahn joked with the journalists. "I spent a decade playing stoners. And then one day, all of a sudden, I'm [playing] a genius."
The executive producers explained that the ideas for the episodes are based on research and the study of human behavior. That is what makes this show different from other – like Leverage or maybe even Mission Impossible. While all of these shows used a team of experts to achieve their goals, Mind Games focuses more on emotional behavior. The mind is an important and interesting element in this series and that is where it gets its title. Mind Games premiers Tuesday, February 25, 2014 on ABC. The elements of this show are not meant for young viewers.
About the Author
Francine Brokaw has been covering all aspects of the entertainment business for 20 years. She also writes about technology and has been a travel writer for the past 12 years. She has been published in national and international newspapers and magazines as well as Internet websites. She has written her own book, Beyond the Red Carpet: The World of Entertainment Journalists, from Sourced Media Books.
Follow her on Twitter
Like her on Facebook