'Mickey's Sport-Y-Thon' DVD
Category:
Blu-ray's and DVD's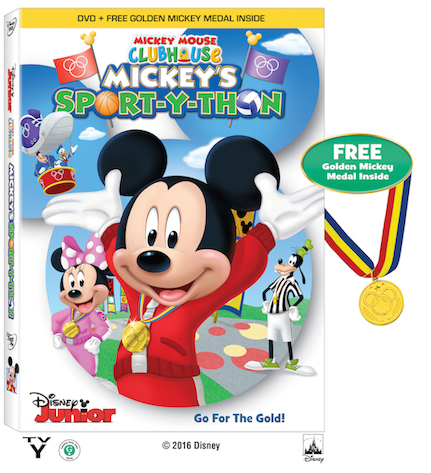 Six episodes from Disney Junior's Mickey Mouse Clubhouse combine to make this newest DVD fun and filled with entertainment (as well as a little learning). Mickey's Sport-Y-Thon includes all the regular characters from the popular pre-school series, as well as some that only show up once in awhile.
"Mickey's Sport –Y-Thon" has the gang competing in various sporting games – like none you've ever seen. This "stupendous sporty event" is filled with excitement and a little magic. Even Martian Mickey, Martian Minnie and Pluto from Pluto come to Earth to take part in the event. If you haven't seen these green alien versions of the characters, you're in for a treat. With Pete and Donald reporting on the activities, it's a fun day of games as everyone learns the meaning of sportsmanship. The winners get a shiny gold medal and included in the DVD box is the same medal so kids can wear their special medallion on a red, yellow, and blue ribbon.
"Mickey's Mouskeball" has the gang trying to hang onto a flying mouskeball while floating in a giant dome. It looks like fun. To bad we don't have that high tech game for real.
In "Mickey's Mouskedoer Adventure," the Mouskedoer machine is on the fritz and needs to be fixed or it will stop working. If it stops, then Toodles will stop too. But how will the gang get inside the machine? It's easy when Professor Ludwig Von Drake "digitizes" them. Talk about science taking a big step forward. With the help of their digitized versions, the gang is able to solve the problems and eventually fix the Mouskedoer.
It's Mickey's birthday in "Mickey's Mouskeday" with party fun for all. What a great celebration, but it's not without a few riddles. And Donald feels a bit left out in "Donald's Brand New Clubhouse," so he decides he wants a clubhouse for himself. But aren't clubhouses supposed to be for everyone? And in "Mickey's Mystery" the gang sets off for the rainforest to solve the mystery of a Mickey-shaped building.
These six episodes from Mickey Mouse Clubhouse, along with a Sporty-Y-Thon golden medal make this a DVD kids will want to watch over and over. The gang from the clubhouse always has some new experiences and a lot of fun, and little viewers will delight in their antics.
Go for the gold! Mickey Mouse Clubhouse: Mickey's Sport-Y-Thon is rated TV-Y for youth.
About the Author
Francine Brokaw has been covering all aspects of the entertainment industry for 20 years. She also writes about products and travel. She has been published in national and international newspapers and magazines as well as Internet websites. She has written her own book, Beyond the Red Carpet The World of Entertainment Journalists, from Sourced Media Books.
Follow her on Twitter