'Mickey Mouse: Merry & Scary Holiday Collection' on DVD
Category:
Blu-ray's and DVD's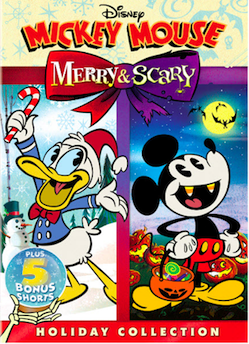 If you're looking for a way to spice up the holiday season or start a new family tradition, Mickey Mouse: Merry & Scary Holiday Collection will do just that. The DVD is fun for the entire family.
"The Scariest Story Ever: A Mickey Mouse Halloween Spooktacular!"
This story has Mickey, Donald, and Goofy doing their best to tell a scary story for Donald's nephews, Huey, Dewey, and Louie and Mickey's nephews Morty and Ferdie Fieldmouse. The stories aren't scary enough for the five little boys. That is until Mickey comes up with a super scary tale of five little boys getting baked into pies by the old witch. That does it. Everyone, even Donald and Goofy are scared by the story. The show includes some music and a lot of mayhem by the five little fellows. Vampires, witches, and ghouls, oh my!
"Duck the Halls: A Mickey Mouse Christmas Special"
This second story on the disc is all about Christmas. It's time for Donald, Daisy, and all the ducks to migrate south for the winter. After all, ducks don't do well in the cold weather. But Donald decides to stay with his friends and celebrate Christmas, something he has never been able to do. He learns why ducks migrate south. Donald doesn't handle the cold and snow like the thought he would. In the meantime, Daisy and the rest of the ducks are in a warm climate having fun in the sun and sea.
There are five bonus shorts included on the DVD. They are pretty much meant for Halloween time. The disc is a fun new way to bring holiday cheer to your house.
With about an hour of animated fun, this DVD is a good way to entertain kids when the weather is bad outside or just to get some Halloween and Christmas spirit in the house. It's not just for kids. Adults will also enjoy the many clever quips and references.
Mickey Mouse: Merry & Scary is rated TV G for everyone.
About the Author
Francine Brokaw has been covering all aspects of the entertainment industry for over 20 years. She also writes about products and travel. She has been published in national and international newspapers and magazines as well as Internet websites. She has written her own book, Beyond the Red Carpet The World of Entertainment Journalists, from Sourced Media Books.
Follow her on Twitter