Mickey, Donald, Goofy: The Three Musketeers Combo Pack
Category:
Blu-ray's and DVD's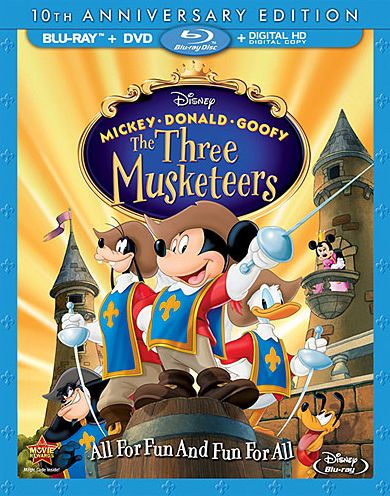 Loosely based on the characters of The Three Musketeers classic novel, Disney added some special touches to this 2004 story of a threesome who strive to become legendary Musketeers. In this case, Donald, Mickey, and Goofy were poor little urchin kids when Musketeers saved their lives. As a reminder, one of them gave Mickey his hat, and from that time on the trio set out to become real musketeers.
Flash forward and we see the trio working as janitors. They are "Janitors today – Musketeers tomorrow!" But do they have what it takes to become authentic Musketeers?
Pete is the bad guy in this story. He has ulterior motives when bringing Mickey, Donald, and Goofy into the Musketeers. Knowing that they are bumbling guys, he puts them in charge of protecting Princess Minnie. His motive is to steal the throne. Hey, with these three in charge of security, it should be an easy takeover.
But the clever and surprisingly brave trio discover they really do have what it takes. And it's all for one and one for all in this fun little tale of good versus evil.
What makes this especially enjoyable – for adults – is the music. When the turtle sings "Just Around the Corner," it is reminiscent of a pop love song of today. And with music from Tchaikovsky and Beethoven, the soundtrack makes this film unique and entertaining.
In a bonus feature Mickey, Goofy, Donald, Pete, and Pluto talk about filming the movie. Well, Pluto doesn't talk, of course, but the others do and converse and joke with each other.
This 10th Anniversary Edition contains a Blu-ray disc, a DVD, and Digital Copy. Mickey, Donald, Goofy: The Three Musketeers is rated G for everyone.
About the Author
Francine Brokaw has been covering all aspects of the entertainment business for 20 years. She also writes about technology and has been a travel writer for the past 12 years. She has been published in national and international newspapers and magazines as well as internet websites. She has written her own book, Beyond the Red Carpet The World of Entertainment Journalists, from Sourced Media Books.
Follow her on Twitter
Like her on Facebook