'Mickey and the Roadster Racers: Start Your Engines' revs up for home viewing
Category:
Blu-ray's and DVD's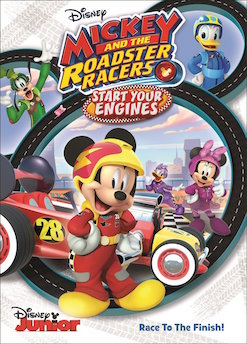 Gear up for fun with Mickey and the Roadster Racers: Start Your Engines, which includes seven episodes from the Disney Junior television series. This preschool series introduces kids to problem solving and plenty of other skills while entertaining them at the same time with Mickey and the gang.
Included among the episodes on this DVD are a couple of "royal" stories. One has Goofy mistaken for his doppelganger who is a secret agent who has all the technological goodies in his car ala James Bond. When the queen is expected for a spectacular tea party with the gang in Mickey's garage, an evil sleuth tries to steal the royal briefcase that has mistakenly been entrusted to Goofy who bears a remarkable resemblance to the secret agent. Well, things get turned topsy turvy but in the end they all enjoy a splendid afternoon with the queen, with Minnie and Daisy in their new fascinators just for the occasion.
Another royal episode focuses on the stolen royal jewels that Minnie mistakes for her anniversary gift from Mickey. But once that gets straightened out, the gang must make sure the jewels are returned safely.
Included in the DVD box is a flag kids can use to decorate their room. This black and white checkered flag is also colorful with images of Goofy and his Turbo Tubster, Minnie and her Pink Thunder, Mickey and The Hot Doggin' Hot Rod, Donald and The Cabin Cruiser, and Daisy and her Snapdragon.
Mickey and the Roadster Racers debuted in January 2017 as the replacement for Mickey Mouse Clubhouse. Mickey, Minnie, Donald, Daisy, Goofy, and Pluto, along with Minnie's helper Cuckoo-Loca, enjoy plenty of adventures in their amazing vehicles. While they all focus on their fun vehicles, Minnie and Daisy also have their Happy Helpers business. They are pretty handy when it comes to fixing the vehicles too!
This preschool series has been popular with boys and girls. It's filled with good life lessons as well as cooperation lessons and tools for everyday life. And with these classic characters, you know your kids will enjoy everything they have to offer.
As with their other DVD releases, Disney Junior has included a fun bonus inside the box – the flag. Parents can help kids hang the flag via the two holes on the top, or simply tape it to a wall. With images of the characters and their colorful vehicles, it's a nice way to decorate a room.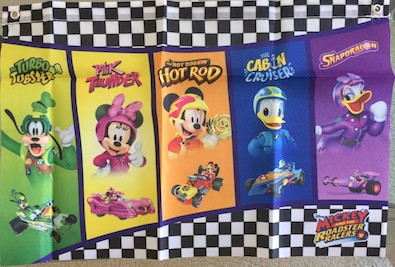 About the Author
Francine Brokaw has been covering all aspects of the entertainment industry for over 20 years. She also writes about products and travel. She has been published in national and international newspapers and magazines as well as Internet websites. She has written her own book, Beyond the Red Carpet The World of Entertainment Journalists, from Sourced Media Books.
Follow her on Twitter