'Mickey and the Roadster Racers' on DVD
Category:
Blu-ray's and DVD's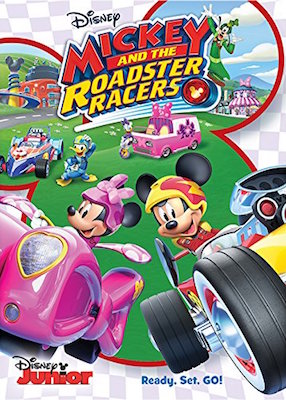 The fun Disney Junior Preschool series Mickey and the Roadster Racers drives home with this new DVD that includes 3 full-length episodes as well as a bonus episode and 2 music videos. Actually, there are 8 stories in all since each episode consists of 2 different stories.
The series premiered in January 2017 as the next step to the Mickey Mouse Clubhouse. This time Mickey and friends drive their own unique vehicles in adventures around the world. Mickey, Minnie, Donald, Daisy, Pluto, and Goofy all work together to bring high-octane fun to youngsters.
And an added element to the series is Minnie and Daisy's Happy Helpers business where they provide assistance to anyone in need. For instance, they are once tasked to babysit a cat and discover the little kitty has taken off. The two must chase it all over town to keep their word that nothing bad will happen to the little guy.
The gang heads over to Spain where Donald plans to rejoin the Three Caballeros for a concert. But when he loses his voice, Daisy must sub for him, at least for a little while.
Besides the regulars, Pete, Chip and Dale, and the fun Cuckoo Loca (Minnie and Daisy's little bird friend) often join the gang. In addition to these well-known animated characters, we cannot forget that the foundation of the show is cars, so world famous drivers Danica Patrick, Jimmie Johnson, and Jeff Gordon voice animated versions of themselves. And, to add even more fun for adults who are watching the series with their kids, Jay Leno, Tum Gunn, Hoda Kotb, Tia Carrere, Jane Leeves, and Gordon Ramsay supply voices in the series.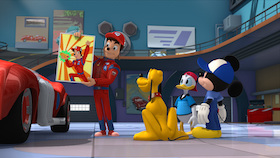 Included in this first DVD from the revved up preschool show are the following episodes:
Mickey's Wild Tire! / Sittin' Kitty
Goofy Gas! / Little Big Ape
Race for the Rigatoni Ribbon! / Roaming Around Rome
The bonus episode is Mickey's Perfecto Day! / Running of the Roadsters!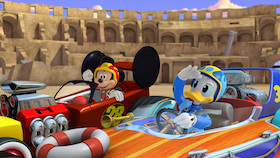 The aspect of the vehicles (Goofy has a converted bathtub) along with Minnie's Happy Helpers side business makes this an entertaining series for boys and girls. And the fun of the gang with all the bright colored animation is something kids enjoy watching. Everyone knows the group is filled with good times and with their globetrotting adventures it's definitely a wild ride for Mickey and friends.
This DVD is filled with several fun adventures from the popular series. Mickey and the Roadster Racers is rated TV Y for everyone. As an added bit of fun, the disc comes with a metal name plate with letters to stick on so kids can create their own name plate to put on their door, wall, or bicycle.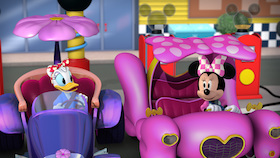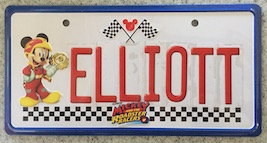 About the Author
Francine Brokaw has been covering all aspects of the entertainment industry for over 20 years. She also writes about products and travel. She has been published in national and international newspapers and magazines as well as Internet websites. She has written her own book, Beyond the Red Carpet The World of Entertainment Journalists, from Sourced Media Books.
Follow her on Twitter