Melissa Rauch goes from Bubbly to Bawdy in 'The Bronze'
Category:
Movies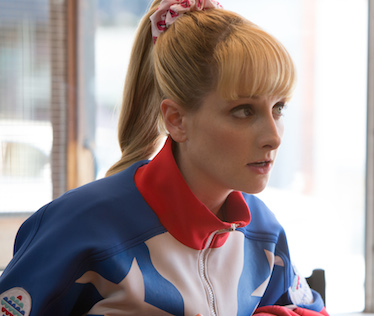 Melissa Rauch plays the sweet, bubbly but sassy Bernadette in the hit sitcom The Big Bang Theory. As Howard Wolowitz' wife she is snarky, cute, and feisty. In her newest role she is more bawdy than bubbly. The Bronze is a new movie written by Rauch and her husband Winston.
In the film Rauch plays Hope Ann Greggory, a gymnast who is resting on the glory of her bronze Olympic medal. She was and still is America's sweetheart and the pinnacle of her small Ohio town. Revered by the residents, Hope wears her warm-up suit around town, bosses everyone around, and even has her own dedicated parking place in town. She gets freebies from everyone, including her drug dealer.
When she begrudgingly takes on the job of coaching the town's up and coming gymnast, the evil lurking deep inside, well, not so deep inside, takes hold and she almost singlehandedly derails the athlete's Olympic dreams.
Director Bryan Buckley says about Hope, "Little did I know 'demented' would be a serene and understated description of the character…" He said at first viewers might have sympathy for the girl who only had one moment of success then it all went to hell due to an injury. "But then she opened her mouth." As soon as she starts talking, the gloves are off and vulgarity takes over her life.
To say Hope's language is vulgar is a complete understatement. According to Buckley, "My sudden exposure to her vicious tongue led me to think this character might someday force the MPAA to call an emergency closed door meeting to redefine what is considered acceptable language in our industry."
The story continues and as she expands her horizon. Hope starts to believe in herself again, and in others. The chip on her shoulder slowly crumbles, but it takes the entire 100 minutes for viewers to change from disliking Hope to liking the character.
Fans of Rauch and Big Bang are in for a surprise when they see caring little Bernadette turn into vulgar and bordering-on-crazy Hope. In person Melissa is a sweet woman. Seeing her in The Bronze is a testament to her acting ability. On screen she is not someone you would ever want to know or even see on the street. Her character is rude, ruthless, and evil. For this movie you could call her Melissa Raunch.
The Bronze opens in theaters March 18, 2016.
About the Author
Francine Brokaw has been covering all aspects of the entertainment industry for 20 years. She also writes about products and travel. She has been published in national and international newspapers and magazines as well as Internet websites. She has written her own book, Beyond the Red Carpet The World of Entertainment Journalists, from Sourced Media Books.
Follow her on Twitter