'Max' on Combo Pack
Category:
Blu-ray's and DVD's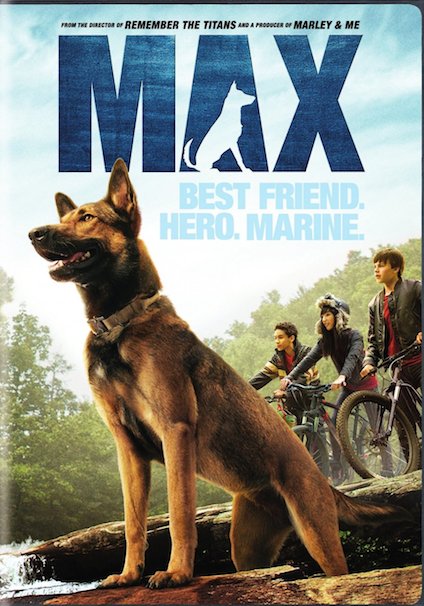 Max is an endearing story of life, loss, and love. Max is a Marine. Well, actually he is a canine working with the marines. This amazing dog will steal your heart from the first scene to the last.
Kyle Wincott (Robbie Amell) is Max's partner in Afghanistan. They are a team and their dedication to each other is what keeps them and the others in the unit safe and productive. But when the unit is ambushed, Kyle is killed and Max is traumatized. With his partner and best friend gone, Max cannot work the way he used to. He is sent back to the states where he is evaluated and deemed unworthy of any future use to the military. Faced with Max's extermination, Kyle's parents (Thomas Haden Church and Lauren Graham) decide to take in their son's buddy and partner.
Kyle's younger brother Justin (Josh Wiggins) is given the responsibility of taking care of Max. Max responds to Justin. He feels the brotherly connection and is soon the boy's best friend. With the help of his friend Carmen (Mia Xitlali), Justin works with the dog and soon Max regains his zest and quickly returns to his old self.
Things seem to be going better for Justin. In the beginning of the story he is an obnoxious teen selling illegal discs and mixed up with the wrong people. He has always felt his brother was the hero. Justin felt like the black sheep of the family.
When the boy discovers things are not what they seem in regard to his brother's death, Justin comes upon an illegal scheme that puts all of their lives in danger – especially Max's life.
Although this is a family film it is rated PG for action violence, peril, brief language and some thematic elements. For kids – and adults – who are disturbed by animal violence, there are some dogfights as well as some animal deaths that happen off camera. However, Max comes through all right. To say this is a roller coaster of emotions is an understatement. It is heart wrenching and heart warming at the same time.
Max is available on DVD and in a Blu-ray + DVD + Digital HD combo pack. The combo pack includes a bonus feature about filming the movie with the dogs. Yes, there were six dogs who played Max. Each dog had a special talent. Another bonus looks at the breed of dog, the Belgian Malinois. They are athletic, smart, and compact, all traits that lend themselves to being service and military dogs.
Max is a story of love. Watch the ending credits to see photographs of service dogs through the years. This film is dedicated to them.
About the Author
Francine Brokaw has been covering all aspects of the entertainment business for 20 years. She also writes about technology and has been a travel writer for the past 12 years. She has been published in national and international newspapers and magazines as well as internet websites. She has written her own book, Beyond the Red Carpet The World of Entertainment Journalists, from Sourced Media Books.
Follow her on Twitter