Matrimony Double Feature DVD
Category:
Blu-ray's and DVD's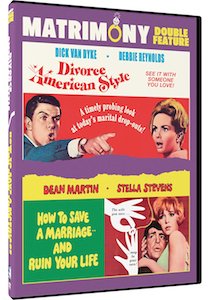 Two comedies focusing on marriage combine in this DVD from Mill Creek. First is the 1967 film Divorce American Style and on the same disc is the 1968 film How to Save a Marriage – and Ruin Your Life.
Divorce American Style
Dick Van Dyke and Debbie Reynolds star as Richard and Barbara Harmon, a suburban couple who have been married for 17 years with two sons. The state of their marriage is shaky, at best.
Richard is proud of his business achievement and the fact that he can provide his family with all the good things in life, including their $49,000 large house, which was very expensive in those days! But Barbara doesn't want all that. What she wants is attention and romance from the man she loves.
After awhile they decide a divorce is the best solution for the family. Richard discovers his lifestyle is greatly downgraded after all his finances and the house are turned over to Barbara. He is now a divorced man who then meets another divorced man, Nelson (Jason Robards), who introduces him to his ex-wife Nancy (Jean Simmons) hoping he and Nancy will fall in love and get married, thereby ending his alimony and allowing him to get his life back on track. Once that doesn't work, Nelson and Nancy plot to set up Barbara with their wealthy friend Al (Van Johnson), hoping now that Barbara will marry Al, freeing up Richard's finances and allowing him to then marry Nancy, thus freeing up Nelson. It's a twisted plot, to say the least.
How to Save a Marriage – And Ruin Your Life
Dean Martin and Stella Stevens star in this whacky story of a single man who sees his best friend's marriage crumbling and tries to save it. When David (Martin) learns his friend Harry (Eli Wallach) is in love with a woman (Anne Jackson) who is not his wife, he sets out to prove this woman is a gold digger. He meets Carol (Stella Stevens), the woman he thinks is Harry's mistress. But in truth, she is a sweet woman with morals and a fine background.
The plot follows David wooing Carol with the intent of proving to his friend that he should stay with his wife. But once he discovers he made a terrible mistake and Carol isn't the mistress, everything hits the fan and the ensemble cast of characters is put in disarray.
The DVD
Both films are not the best for any of the actors. But the hairstyles, fashions, houses, and automobiles of the late 1960s will entertain viewers. Plus, seeing the prices of everything back then might be nostalgic for those of us who remember the time when we spent less than a dollar on a full McDonald's meal.
About the Author
Francine Brokaw has been covering all aspects of the entertainment industry for over 20 years. She also writes about products and travel. She has been published in national and international newspapers and magazines as well as Internet websites. She has written her own book, Beyond the Red Carpet The World of Entertainment Journalists, from Sourced Media Books.
Follow her on Twitter