Masters of Sex Season One on DVD
Category:
Blu-ray's and DVD's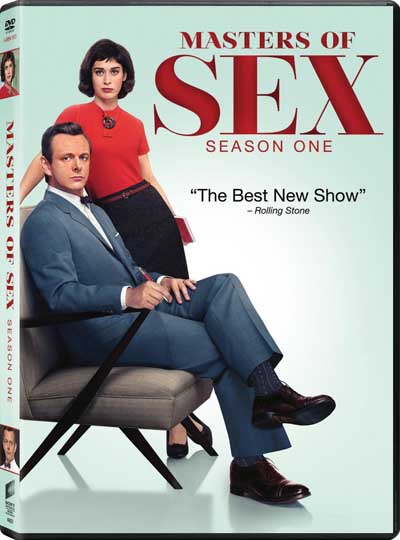 The highly acclaimed TV series Masters of Sex is now available on Blu-Ray and DVD. The series stars Michael Sheen and Lizzy Caplan as the famed Masters and Johnson sex researchers. William Masters (Sheen) and Virginia Johnson (Caplan) were the first researchers to study sex and sexuality and the human body in relation to them.
The series follows the two researchers as they meet, begin their studies together, and form a personal bond. William Masters is married and Virginia Johnson is a single mother. They have a great working relationship and both are interested in documenting how the male and female bodies react in sexual experiences. During their close working relationship they form an emotional bond, and eventually they get married, but that is way down the road. In the first season they simply begin their working partnership, which leads to a more intimate relationship.
Masters of Sex is an addicting series. Due to the subject matter and nudity, this is not recommended for young viewers. Beau Bridges, Caitlin FitzGerald, Allison Janney, Nicholas D'Agosto, Teddy Sears, and Julianne Nicholson co-star in this fascinating and mesmerizing show. Once you start watching you won't be able to stop.

A bonus feature on the discs include a "making of" featurette where viewers get an understanding of how the show was created and brought to the small screen. The series is described as "bold and provocative and somewhat shocking." It is an "intimate story of relationships." The 1950s was a time when sexuality was still buttoned up, so to speak and was rarely discussed. Michael Sheen is the one and only actor the showrunners wanted to play the part of William Masters, and they even adjusted their schedule to fit his. And Beau Bridges says he was a bit surprised to learn he was going to play a closeted gay character.
There are bonuses in which Lizzy Caplan and Michael Sheen discuss their roles and how they tackled playing opposite each other and playing real life characters. Sheen is "excited between what is known and unknown" about the title characters and is happy to bring their story to the screen. And Caplan admits she loves the show and her character and "really likes coming to work everyday." There are also several deleted scenes included on the discs. There are a couple additional bonus features on the Blu-ray that delve more deeply into Masters and Johnson and their sexual discoveries.
All twelve Showtime episodes are included in this set. Michael Sheen was nominated for a Golden Globe for Best Performance by an Actor, Masters of Sex won an AFI award for TV Program of the Year, and was nominated for several other awards. If you haven't seen it, this is your time to see season one in its entirety, along with plenty of great bonus additions.
Masters of Sex is rated TV-MA for adult content, graphic language, and nudity. It is for Mature Audiences.
About the Author
Francine Brokaw has been covering all aspects of the entertainment business for 20 years. She also writes about technology and has been a travel writer for the past 12 years. She has been published in national and international newspapers and magazines as well as internet websites. She has written her own book, Beyond the Red Carpet The World of Entertainment Journalists, from Sourced Media Books.
Follow her on Twitter
Like her on Facebook