'Mack & Moxy' DVD Giveaway
Category:
Giveaways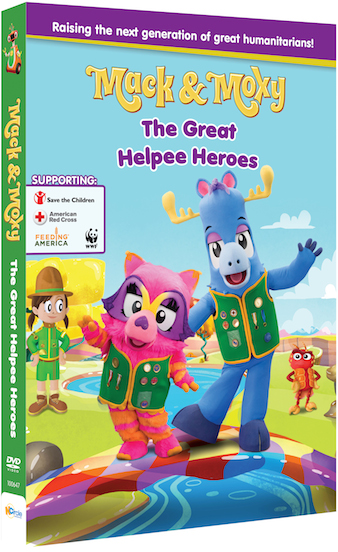 Mack & Moxy is a delightful new kids series which combines animation, live-action and music in order to introduce younger children to important issues like literacy, emergency preparedness and more in relatable 14-minute episodes. The show has been airing on PBS stations.
With charming animation by Bardel Entertainment (Puss in Boots), each segment was developed with a charity partner (Save the Children, American Red Cross, etc.) to create an authentic (but fun!) learning experience that will inspire children to get involved with causes that touch their hearts.
Mack & Moxy: The Great Helpee Heroes includes 4 episodes from the show.
Episodes on the DVD:
"A Ty-Grrrr's Tale" – Eva LaRue sends Mack and Moxy to befriend a little tiger named "Grrrr," who loses all his friends when his once-lush jungle habitat is slowly destroyed by careless builders. This episode is presented in partnership with the American Wildlife Federation.
"Feeding Rainbow" – Eva, Mack and Moxy team up to introduce Rainbow, a hungry Pegasus, to a food pantry where he and his family can stock up on nutritious groceries. This episode is presented in partnership with Hunger Awareness.
"A Friend Who Reads is a Friend Indeed" – Josh Duhamel, Mack and Moxy cheer up a lonely puffball called Noli by giving him his first book so he can explore the world, even when he is on his own. This episode is presented in partnership with Save the Children.
"Always Be Prepared" – Kal Penn joins Mack and Moxy as they meet Kendling, a clever cornstalk boy who is planning an escape route for his family in case of an emergency. This episode is presented in partnership with the American Red Cross.
Check out the trailer.
We have some DVDs to giveaway.
To be eligible to win a copy of Mack & Moxy, email us at [email protected] with "Mack & Moxy Giveaway" in the title. Please supply your name, address, phone number and email address (so we can let you know if you are a winner).
The deadline for this giveaway is May 20, 2016.