Lucille Ball is 'Mame'
Category:
Blu-ray's and DVD's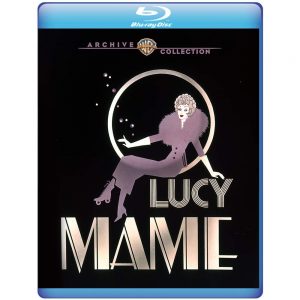 In 1958 Rosalind Russell starred in the movie Auntie Mame, based on the book Travels with My Aunt by Patrick Dennis. The film was remade into a Broadway musical starring Angela Lansbury and then a feature film. This 1974 musical Mame stars Lucille Ball as the eccentric and loveable Mame Dennis. Bea Arthur reprises her role as Mame's best buddy Vera. She originated the role on Broadway opposite Lansbury. Robert Preston is Mame's beau/husband Beauregard Jackson Pickett Burnside.
Mame is a New York socialite with a fabulous apartment and a colorful group of friends. Then when her brother and his wife die, she is given guardianship of their young son Patrick. Mame sees this as an opportunity to open up the world to the young lad, but the executor of the estate, Mr. Babcock (John McGiver) has other ideas. He wants the boy to have a conventional upbringing and life in an upper class boarding school.
Even though they are separated Patrick and Mame still forge further with their bond of love. As much as Babcock wants to keep Mame's lifestyle and views of living away from the boy, he cannot. Mame's influence over the years has given Patrick a Mame-like view of the world.
Through all the ups and downs (see the movie to get this pun) Mame and Patrick have the deepest love any mother and son could have. She's not his mother, but she has definitely instilled her joy of life in the young man.
The songs in the film are memorable: "It's Today," "Open a New Window," "My Best Girl," "We Need a Little Christmas," "Bosom Buddies," and of course the title song, "Mame." And a new song written for the film, "Loving You," is sung by Robert Preston.
The bonus feature looks at how Lucy stepped into Mame's shoes to create this musical, fun, and thoroughly enjoyable version of the story. It was difficult for many people to think of Lucy in the role since Lansbury originated it on Broadway and she had second thoughts about taking it, but as viewers see, she did the character justice and is a delight to watch. It's just a fun film. Even if you love Lansbury in the role, Lucy will put a smile on your face.
Mame is a fun film with a sweet story. It's rated PG.
Mame is part of the Warner Archive Collection and can be ordered from their website or where Blu-rays are sold.
About the Author
Francine Brokaw has been covering all aspects of the entertainment industry for over 25 years. She also writes about products and travel. She has been published in national and international newspapers and magazines as well as Internet websites. She has written her own book, Beyond the Red Carpet The World of Entertainment Journalists, from Sourced Media Books, is the entertainment correspondent for Good Day Orange County, and has her own TV show, Beyond the Red Carpet, on Village Television in Orange County.
Follow her on Twitter