'Lovers and Other Strangers' comes to Blu-ray
Category:
Blu-ray's and DVD's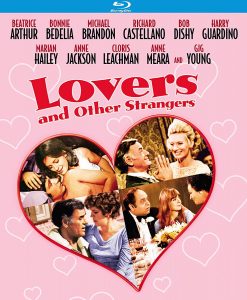 An all-star cast highlights this farcical comedy about love, marriage, and relationships. Lovers and Other Strangers is a 1970 film featuring young Bea Arthur, Harry Guardino, Anne Jackson, Cloris Leachman, Bonnie Bedelia, Michael Brandon, Anne Meara, Diane Keaton, Gig Young, Bob Dishy, and Richard Castellano. It's fun to see these actors as they were almost 50 years ago.
The story takes place in the space of two days. Susan and Mike (Bedelia and Brandon) are getting married and their families are in the midst of all the wedding hoopla. The thing is, this happy young couple is unaware of all the frustrations that are happening with their parents.
First, Susan's father and mother Hal and Bernice (Young and Leachman) seem like the most loving couple. Unbeknownst to the soon-to-be newlyweds, Hal is having an affair with their family friend Kathy (Jackson), and insists after the wedding he will ask for a divorce so they can be together.
Second, Mike's brother (Joseph Hindy) is planning on divorcing his wife Joan (Keaton) to the chagrin of their parents Frank and Bea (Castellano and Arthur) who are devout Catholics. Can they persuade their son not to get a divorce?
Third, Susan's cousin Brenda (Marian Hailey) gets involved with a wedding usher (Dishy) who is only interested in one thing – bedding as many women as he can.
Fourth, Susan's sister Wilma and her husband Johnny (Meara and Guardino) are in the midst of a marital upheaval when he feels his masculinity is threatened. Are they also headed for divorce court?
With all of these crazy stories playing out against the backdrop of a beautiful wedding, viewers will see how whacky each character is in his/her own right. They are a combination of unconventional psychologically mixed up people.
The movie is from the play by married actors/writers Joseph Bologna and Renee Taylor who also co-wrote the screenplay. What today's viewers will enjoy most is the wackiness of the characters as well as the wardrobe and hairstyles of the 1970s. And let's not forget the plastic on the couches and pillows. Yes, this is what many people did back in those days. While the hairstyles might not be rekindled soon, especially the long bushy sideburns, the fun and colorful fashions might be making a comeback.
Lovers and Other Strangers is rated R.
About the Author
Francine Brokaw has been covering all aspects of the entertainment industry for over 25 years. She also writes about products and travel. She has been published in national and international newspapers and magazines as well as Internet websites. She has written her own book, Beyond the Red Carpet The World of Entertainment Journalists, from Sourced Media Books, is the entertainment correspondent for Good Day Orange County, and has her own TV show, Beyond the Red Carpet, on Village Television in Orange County.
Follow her on Twitter