'Love in the Afternoon' on Blu-ray
Category:
Blu-ray's and DVD's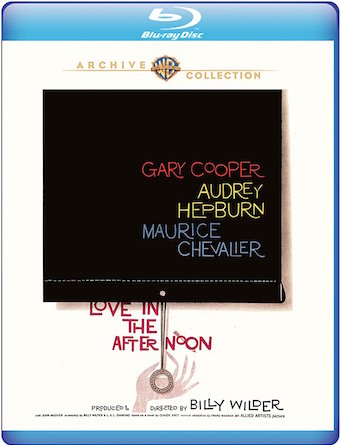 Love in the Afternoon stars Audrey Hepburn as a young Parisian music student who sticks her nose in her father's business. Ariane (Hepburn) is all about her cello, but is fascinated by her father's detective business and his cases. Maurice Chevalier plays her father whose business focuses on cheating husbands and wives.
Ariane lives vicariously through all the cases she reads in her father's files. Then one day she goes to see the latest rake, Frank Flanagan, played by Gary Cooper. Through some quick talking, she manages to save his life from a jealous husband.
This young, inexperienced woman is taken by his worldly charm and he is enchanted by her. She plays a worldly sophisticate but he is skeptical. Also, as they get to know each other better, each one is more taken by the other and the magic that unfolds is baffling to both of them.
Flanagan is a man with many women in cities around the globe. He doesn't want any commitments and only wants to have a good time. Ariane has never had any relationships but puts on a good show by using the information she read in her father's files to impress the American playboy. She matches him affair to affair, so to speak, and he is impressed that she has such a sophisticated outlook on relationships. As she tells him "stories" of her life he is baffled that she has had so much experience.
The twist comes when Flanagan decides to learn more about this woman who is only available in the afternoons. She said she lives with a man, leading him to believe it is a romantic relationship. She neglects to tell him the man is her father.
When he hires her father to find out more about this enchanting young woman, the truth comes out. But there is more to their afternoons than meets the eye. Could this May-December friendship be a true love story?
The pairing of Hepburn with Cooper is a bit awkward. This 1957 film is in black and white and directed by the wonderful Billy Wilder. Hepburn is adorable as always. She is trying so hard to be a nonchalant Parisian woman, but deep inside she is falling hard for this man. And he is trying to keep up his aloof exterior while falling for her.
What starts out as a mission to save this man from an irate husband turns into a delightful little story of love – in the afternoon. After all, she has to get home to her father in the evenings.
Hepburn had already had hits with other romantic comedies, Roman Holiday (1953), Sabrina (1954) and Funny Face (1957), and was quickly becoming the sweetheart of the silver screen. Cooper had racked up a string of great Westerns and dramas. Pairing the 56 year-old with the 28 year-old Hepburn was a gamble. While not their most famous roles, Love in the Afternoon is a fun little film that will delight fans of the actress and is a nice way to spend an afternoon, no pun intended.
Love in the Afternoon is part of the Warner Archive Collection and can be ordered from their website.
About the Author
Francine Brokaw has been covering all aspects of the entertainment industry for over 20 years. She also writes about products and travel. She has been published in national and international newspapers and magazines as well as Internet websites. She has written her own book, Beyond the Red Carpet The World of Entertainment Journalists, from Sourced Media Books.
Follow her on Twitter