'Love Finds You in Valentine' on DVD
Category:
Blu-ray's and DVD's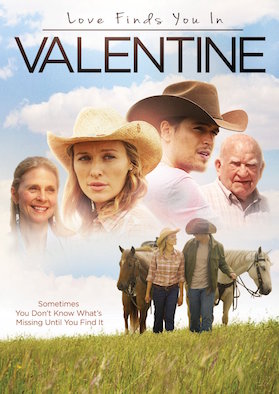 Based on the popular novel, Love Finds You in Valentine is another story from the "Love Finds You" series about finding love and destiny. This story is about a law student living in Los Angeles who travels to the quaint town of Valentine, Nebraska to undertake the sale of her family's ranch. What she discovers is that she is happier in Valentine with the fresh air, rolling hills, and friendly people than she is in the high-powered world of the big city.
Kennedy Blaine (Michaela McManus) never knew much about her family, but she discovers everything when, according to her father's will, she must take care of the selling of the ranch in person, so she travels to Valentine with the intention of signing the documents. What she learns is that her mother, a Morgan, married the love of her life, a Blaine. The two families had been feuding for generations. After her mother ran off with her father, neither of them spoke much about their past lives in Valentine. And Kennedy never knew her grandfather (Ed Asner).
The first person she meets is the ranch foreman, Derek (Diogo Morgado), who lives with his mother (Lindsay Wagner) on the property. But Kennedy also meets a cousin who is anxious to get her John Hancock on the papers to sell the property.
The more she learns about Valentine the more she feels at home there. And the more time she spends there, the more she realizes something is screwy. Why does her cousin want her to sell so badly? What's really going on?
Kennedy also learns about her family history and the ranch from Derek, who eventually warms up to the city girl. With secrets of his own, this man keeps his distance from her, but the attraction between them is difficult to ignore.
So, with Derek's past coming back to haunt him and maybe put everyone in jeopardy, and her cousin pushing her to sell the ranch, there are plenty of things going on in Valentine that intrigue Kennedy. But the most important thing is the connection she feels to this land. It was where her parents grew up. It was their home. Now that they are both deceased, Kennedy feels like this might be her home as well.
Love Finds You in Valentine is a nice little story, especially for Valentine's Day viewing. Like all the "Love Finds You" movies, this one leaves viewers feeling good, content, and hopeful. And the scenery is spectacular. It was actually filmed in a small town in Ohio and could end up being an ad for tourism Millersburg and Dover, Ohio. It's that charming.
Love Finds You in Valentine is not rated however it is appropriate for all ages. Unfortunately, there are no bonus features on the DVD.
About the Author
Francine Brokaw has been covering all aspects of the entertainment industry for 20 years. She also writes about products and travel. She has been published in national and international newspapers and magazines as well as Internet websites. She has written her own book, Beyond the Red Carpet The World of Entertainment Journalists, from Sourced Media Books.
Follow her on Twitter