'Love Finds You in Charm' on DVD
Category:
Blu-ray's and DVD's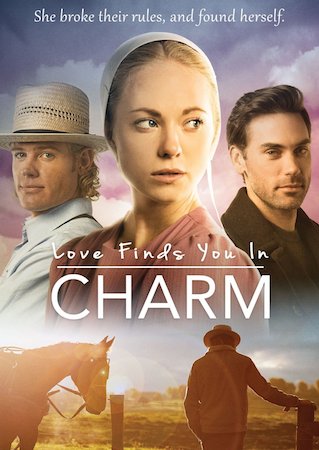 Love Finds You in Charm is a story of love and finding one's place in the world. Danielle Chuchran stars as Emma Miller, a beautiful Amish girl who is conflicted about her place in the world.
Emma yearns to go out into the world. She is transfixed by the airplanes that fly over her small Indiana town and wonders what it would be like to leave the Amish community and the Amish lifestyle. So, when her cousin in nearby Charm, Ohio, asks the family for help, Emma is sent to spend the season on the farm and while away from her family perhaps she will gain a better perspective about her life and future.
Upon arriving in Charm, Emma meets Noah (Trevor Donovan), her cousin's in-law. This young man is different from the Amish men Emma knows. He is well read and has been out in the world. He tells her after being away he realized this was where he belonged. But she has her own decisions to make.
When she goes into the town Emma meets an English woman who works in the library. Kelly (Tiffany Dupont) has also come to Charm to figure out her own future. The two women get along right from the start and their friendship is something Emma treasures. She has never had an English friend.
While enjoying her time in Charm with Noah and Kelly, Emma meets a charming writer who takes interest in her as a woman. Andy (Drew Fuller) is sophisticated and has traveled the globe, which entices the young Amish woman. Her eyes light up when he describes foreign places.
Emma is now on the cusp of her decision. Should she stay with the Amish or should she venture out into the world of the English? As she admits, once someone leaves, it is difficult to return to the sheltered life. But what is it that she wants out of life? Where does she belong?
Love Finds You in Charm is a sweet movie for a cozy evening by the fire or a fun Saturday afternoon escape for viewers who will undoubtedly root for Emma to make peace with her final decision. And yes, she does. It's a great ending to a nice little story.
Love Finds You in Charm is not rated, however it is appropriate for about ages about twelve and above. There are no disturbing images or scenes that are controversial. It is simply an entertaining story of life and love.
About the Author
Francine Brokaw has been covering all aspects of the entertainment industry for 20 years. She also writes about products and travel. She has been published in national and international newspapers and magazines as well as Internet websites. She has written her own book, Beyond the Red Carpet The World of Entertainment Journalists, from Sourced Media Books.
Follow her on Twitter