Lost for Words on DVD
Category:
Blu-ray's and DVD's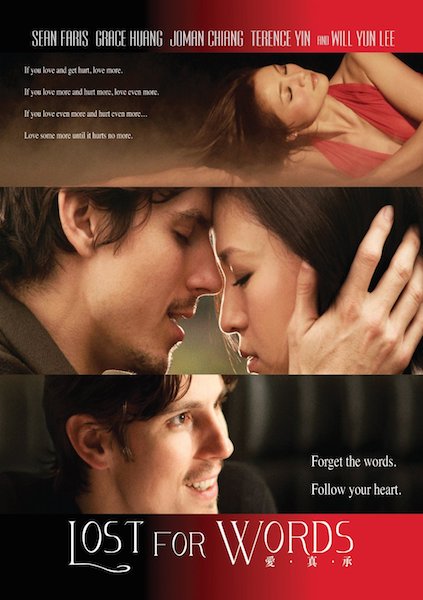 Lost for Words is a dramatic love story combining East and West. Sean Faris plays Michael, an ex-Marine who is floundering. His fiancée broke off their engagement and he is unsure of his path in life. Then he takes a job as an IT pro in Hong Kong and everything changes.
When Michael arrives in Hong Kong, he is basically a fish out of water. He throws himself into his job. But then he meets Anna (Grace Huang), a Chinese modern ballerina, and their relationship gives his life a new direction.
Anna and Michael start off as friends but their friendship soon blossoms to full-blown love. She is from a conservative family and hasn't experienced much of life or love before moving from her small town to Hong Kong. The two find that the bridge between East and West is easily crossed when love enters into the picture.
In the beginning, she is helping him with his Chinese and he is helping her with her English. But the more time they spend together, the more the language lessons fade and their attraction grows.
Lost for Words is definitely slow moving. It shows some wonderful scenes of Hong Kong, a city surrounded by plenty of beautiful places. At the heart of the film, however, is the love story that builds between Michael and Anna.
When she takes him back to her home for the Chinese New Year, Michael faces her devoted grandfather who is at first ambivalent about his granddaughter and this American man. But Michael is determined to impress Anna's family. When a disturbance erupts, their love might be lost forever.
Michael and Anna are the stars of the movie, however Anna's friend and roommate Mei Mei (Joman Chiang) and Michael's boss and friend Stanford (Will Yun Lee) provide small side stories.
This could be considered a modern-day Love is a Many Splendored Thing (1955) with a twist.
Lost for Words is not rated, however it is be appropriate for middle teens and above.
About the Author
Francine Brokaw has been covering all aspects of the entertainment business for over 20 years. She also writes about technology and has been a travel writer for the past 15 years. She has been published in national and international newspapers and magazines as well as Internet websites. She has written her own book,  Beyond the Red Carpet The World of Entertainment Journalists, from Sourced Media Books.
Follow her on Twitter
Like her on Facebook