The Jay Ward Legacy Exhibit at the Paley Center for Media
Category:
Activities, Performances, & Events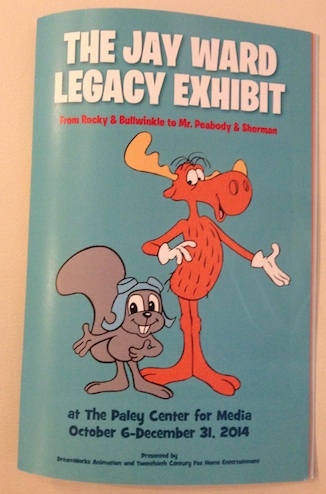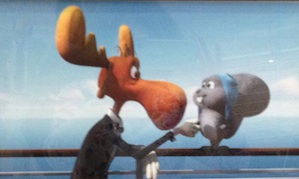 Jay Ward was a pioneer in the animation world. Among his creations are Rocky & Bullwinkle, Dudley Do-Right, Peabody and Sherman, George of the Jungle, and someone who is a staple in many households – Cap'n Crunch. Mr. Ward is no longer alive, but his legacy and creations live on, most recently in new Mr. Peabody and Sherman movie (which is now available on Blu-ray) and the new Rocky & Bullwinkle short (which is bonus on the Blu-ray).
For the last 25 years his daughter Tiffany has been at the helm of the family business. Currently fans can explore the work of Jay Ward at the Paley Center for Media in Beverly Hills. If you have been in Los Angeles for any amount of time, you have most likely seen the large Rocky & Bullwinkle statue that stood in front of the Jay Ward offices on Sunset Boulevard. That building was sold and the statue had to be removed. But it has been completely refurbished and currently resides in the lobby of the Paley Center for Media. Indeed, Rocky & Bullwinkle are on hand to greet visitors to the center during this exhibit.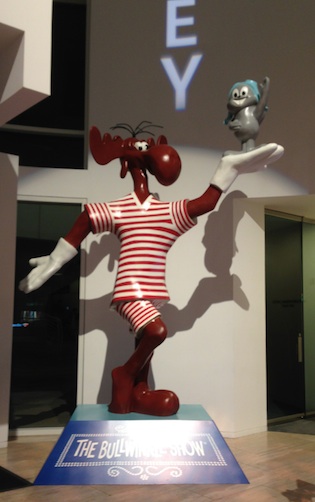 The Jay Ward Legacy Exhibit is on display at the Paley Center for Media from October 6, 2014 to December 31, 2014. The Paley Center is located at 465 North Beverly Drive in Beverly Hills, California. For hours and directions, call 310-786-1000.
About the Author
Francine Brokaw has been covering all aspects of the entertainment business for 20 years. She also writes about technology and has been a travel writer for the past 12 years. She has been published in national and international newspapers and magazines as well as internet websites. She has written her own book, Beyond the Red Carpet The World of Entertainment Journalists, from Sourced Media Books.
Follow her on Twitter
Like her on Facebook