Live at the Foxes Den - Movie Review
Category:
Movies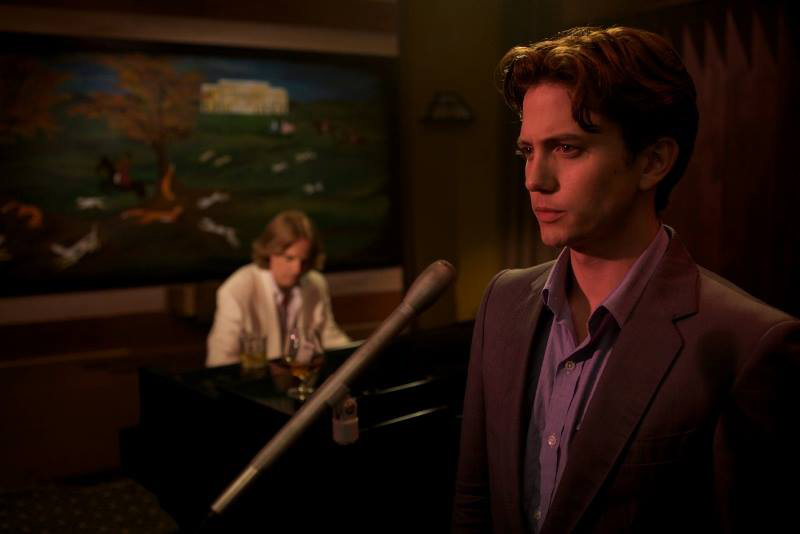 If this movie had been made 50 years ago, it would have definitely starred Frank Sinatra. Live at the Foxes Den is an eccentric little movie about an attorney who discovers his love of singing is greater than his love of his career.
Bobby Kelly (Jackson Rathbone) is on his way up in his law firm. He's got talent when it comes to being an attorney, but he is also dissatisfied with his life. Then one night he and his friends wander into a lounge and Bobby starts singing. Lo and behold, he discovers he has another talent.
The piano player at The Foxes Den lounge is a character unto himself. Chad Barrows (Jack Holmes) is an enigma. He drives a Mercedes convertible, knows everything about music, smokes like a chimney, drinks to excess, and hides his family's wealth and history. And the waitress at the lounge, Kat (Jocelin Donahue), is also hiding a big secret from her past.
Two regulars who hang out in the lounge are Paul and Tony (Elliot Gould and Bob Gunton), a gay couple who love to talk about the good old days when the lounge was hopping and filled with music. Today the lounge is practically empty, to the chagrin of the owner (Brian Doyle-Murray). But when they hear Bobby sing, memories of the past glory of the place return.
Meanwhile, Bobby's irritation with his boss at the law firm climax and he rethinks his life. He knows he's happy when he's singing at the lounge. So, with out much coaxing he decides that is where he wants to spend his time. He enjoys the camaraderie of his new friends and enjoys singing. But is that really what is going to make him happy?
This is an odd story filled with classic music from the past, an unusual group of characters, and some original tunes written by Jack Holmes. It's not a film that will appeal to a wide audience, yet I found it strangely compelling. I cannot put my finger on it, but I was drawn to the story. Yes, it's odd, but the mixture of the characters combined with classic songs of the past make this an unusually entertaining little indie film.
Live at the Foxes Den opens in theaters December 6, 2013 in limited markets and on VOD. It's not rated. It is not for young viewers.
About the Author
Francine Brokaw has been covering all aspects of the entertainment business for 20 years. She also writes about technology and has been a travel writer for the past 12 years. She has been published in national and international newspapers and magazines as well as Internet websites. She has written her own book, Beyond the Red Carpet: The World of Entertainment Journalists, from Sourced Media Books.
Follow her on Twitter
Like her on Facebook