'Lilo & Stitch: The Official Cookbook'
Category:
Books and Music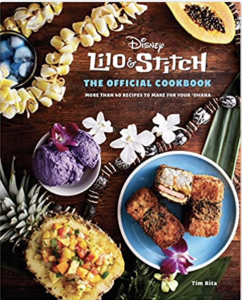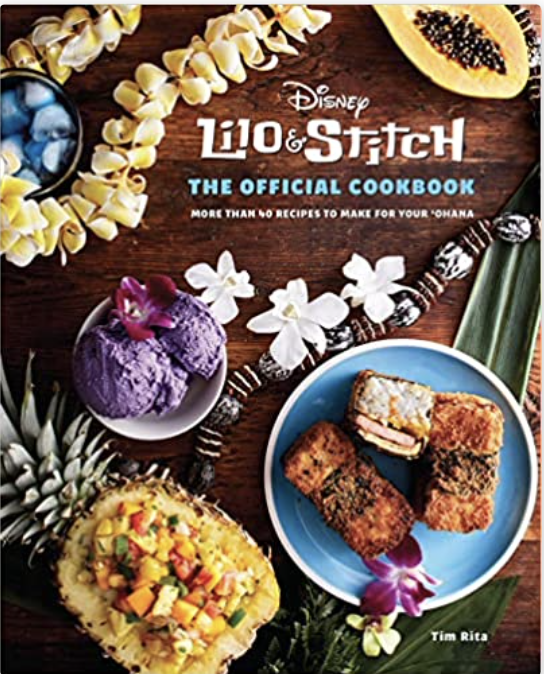 Fans of Lilo and Stitch, and all of Stitch's cousins will enjoy creating dished that the little Hawaiian and her beloved companion would probably eat. This 
Lilo & Stitch: The Official Cookbook is filled with recipes for savory and sweet delights. 
Many of the ingredients need to be ordered (and the recipes mention that) and there are many dishes that include the Hawaiian favorite Spam. I can see substituting this with other ingredients that individuals might enjoy better. And substituting tofu or vegetables for meat will easily make the food vegetarian.
The instructions are easy to follow and the book is filled with photos of the final dishes as well as pictures of Lilo and her family.  I am planning on making the "Guava Celebration Cake" soon. It looks and sounds delicious and easy to make. It will bring the fruity taste of Aloha to our home.
The Kaua'i Sugarloaf Pineapple Salsa will definitely be making an appearance at our next get together. Combine this with chips and you have a unique snack for munching on while watching TV or just hanging out. It is much different from the usual salsa we all know. Who would have thought about mixing these ingredients for a sweet and savory salsa? 
The one recipe I know I will use over and over again is the Kuma Puloki's Hawaiian-Style Coleslaw.  I enjoyed the coleslaw when I visited the islands and if this is anything like what I ate there, this is definitely a winner.
Perhaps families might want to begin their Hawaiian cooking experience with the Stitched Popcorn. It takes popcorn to a new level with spices, soy sauce, and cheese puffs. The recipe calls for red-hot cheese puffs however looking through this I can see that regular cheese puffs will still work for those who do not want super spicy popcorn.
What this book does is bring the traditional flavors of the island to everyone. And I bet Lilo herself would love to come over to taste your creations. Unfortunately, she lives in Kaua'i so that won't work, but I do highly recommend trying some of these recipes to spice up your usual meals. 
For a fun time, kids can bring their plush Lilo and Stitch to the kitchen to help prepare and to the table to take part in the meal. Imagination is important at all ages, and by using these kinds of books, kids get to expand theirs and pretend they are with Lilo and Stitch. How much fun is that?
Enjoy these unusual delicacies. Aloha.
Publisher

 

:

 

Insight Editions (May 23, 2023)
Hardcover

 

:

 

128 pages
ISBN-10

 

:

 

164722957X
ISBN-13

 

:

 

978-1647229573

About the Reviewer

Francine Brokaw writes about products, books, travel, and entertainment. She has been published in national and international newspapers and magazines as well as Internet websites. She has written her own book, Beyond the Red Carpet The World of Entertainment Journalists, is the entertainment correspondent for Good Day Orange County, and has her own TV show, Beyond the Red Carpet, on Village Television in Orange County. Follow her on Twitter.