Lifetime Double Feature DVD for the holidays
Category:
Blu-ray's and DVD's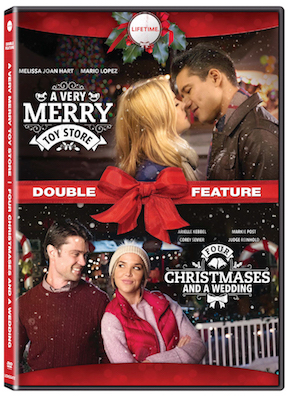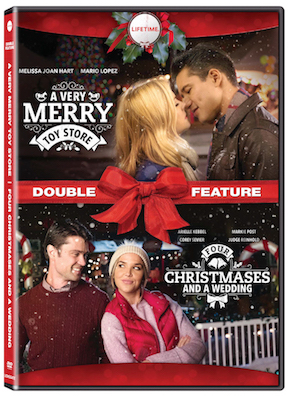 Two feel-good Lifetime holiday movies come together in one package. A Very Merry Toy Store and Four Christmases and a Wedding are a fun way to enjoy the spirit of the season.
In A Very Merry Toy Store Melissa Joan Hart and Mario Lopez star as competitors in a small town. They each own a toy store just a few feet away from each other. Their competitiveness is in high gear until a toy mogul, Roy Barnes (Billy Gardell), surprises everyone by opening one of his gigantic toy stores in the town. This ruthless man will stop at nothing to run the two out of business. Connie and Will (Hart and Lopez) decide to only way to beat him is to join forces. And, let's face it, when it comes to these stories they join more than just their businesses. Love is in the air but first they must make sure Roy's Toys is denied a permit to stay in the town. This small town doesn't have any big commercial stores and the townsfolk want to keep it that way.
Brian Dennehy costars as Joe, the owner of the local diner who has a crush on Connie's mother (Beth Broderick). And Dan Amboyer costars as Connie's brother Randy who is oblivious to the advances of Francine (Tara Strong), Joe's waitress.
The movie was mainly filmed in New Britain, Connecticut, the setting for the story.
Four Christmases and a Wedding is the other 2017 Lifetime holiday movie included on this double feature DVD. The film stars Arielle Kebbel as Chloe and Corey Sevier as Evan, who meet and, well, you can guess the rest.
The movie takes place over five years. Chloe is an event planner and during the first Christmas Fair for their town, she meets Evan. They hit it off but his job takes him out of the country. The next year at the fair they meet again, but there is something else keeping them apart. They meet again the following year. This fair is the only time they see each other. Just think of the movie title and you can imagine what happens.
This is a cute story with Markie Post as Chloe's mother and Judge Reinhold as her high school friend who now becomes her suitor.
Kebbel is adorable. Her wardrobe and jewelry in this film are fabulous. I'll take any one of her ball dresses and necklaces anytime!
This fun double feature is a great way to spend one or two nights preparing for the season. And, when you're wrapping presents, why not pop in this DVD and enjoy the season with these stories.
Let's face it, we know these holiday romantic films all end well, but it's how the couples get to their happy endings that makes the movies worthwhile. And both of these are fun with wonderful casts.
About the Author
Francine Brokaw has been covering all aspects of the entertainment industry for over 25 years. She also writes about products and travel. She has been published in national and international newspapers and magazines as well as Internet websites. She has written her own book, Beyond the Red Carpet The World of Entertainment Journalists, from Sourced Media Books.
Follow her on Twitter