Liam Neeson is 'Gun Shy' on Blu-ray
Category:
Blu-ray's and DVD's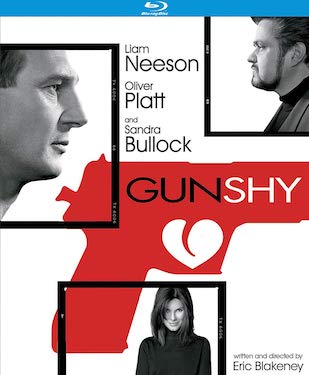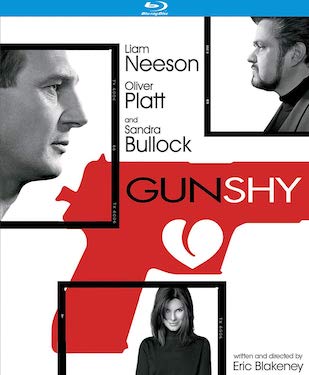 An impressive cast leads this offbeat 2000 movie. Liam Neeson, Oliver Platt, Sandra Bullock, Richard Schiff, Mary McCormack and others join together in Gun Shy, a whacky story of a DEA agent who has had enough of the dangers and undercover actions he has endured for his entire career.
Neeson is Charlie, a veteran undercover agent who is losing his mind, or so he thinks. He's smart and quick on his feet, but his heart isn't in his job any more. All he wants is to retire to someplace with an ocean view. After his last encounter where his friend got killed and he came close to following, he wants out of his job. But the powers that be want him in for another mission.
His new mission involves Colombian drug lords, the local mafia, and some interesting characters. Charlie undertakes this assignment with trepidation. He knows he has lost his edge, and he is losing control of his stomach. He decides to see a psychiatrist and it's there he divulges his undercover work. Plus, when he joins the group therapy sessions, he involves everyone in the group in his undercover operation. They learn everything about his case and what he is about to do. For a veteran agent, he should know better, but Charlie is on his last bit of nerves and he is an unconventional agent, to say the least.
Then he is advised to see a gastroenterologist for his stomach problems. The nurse, Judy (Bullock), takes a liking to Charlie and soon they are dating. Finally he divulges his job and current mission to her while she is trying to calm his stomach. So now everyone knows what he is doing, except for the drug lords and the mafia.
This off-beat and whacky story has a little bit of "The Sting" in it as Judy and the others decide to help Charlie in his last efforts, before he gets himself killed.
What do gangsters, psychiatric patients, a sweet nurse, a barium enema, millions of dollars, and a traumatized DEA agent have in common? That is answered in this movie.
Platt is the son-in-law of the Mafia Don who is always eager to shoot his gun but deep down wants to be a vegetable farmer. Jose Zuniga is the son of a Colombian drug lord who wants to please his father but also has a tough side.
This combination of characters is off beat, to say the least. The film starts out in an unusual way but as it picks up it brings viewers deeper into the psyche of Charlie and his desire to be good at his job while at the same time keeping his eye on the prize – a place to retire with an ocean view.
Gun Shy is rated R for violence, language, and some brief nudity.
About the Author
Francine Brokaw has been covering all aspects of the entertainment industry for over 25 years. She also writes about products and travel. She has been published in national and international newspapers and magazines as well as Internet websites. She has written her own book, Beyond the Red Carpet The World of Entertainment Journalists, from Sourced Media Books.
Follow her on Twitter