'Les Girls' on Blu-ray from Warner Archive Collection
Category:
Blu-ray's and DVD's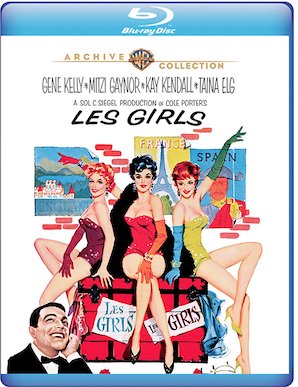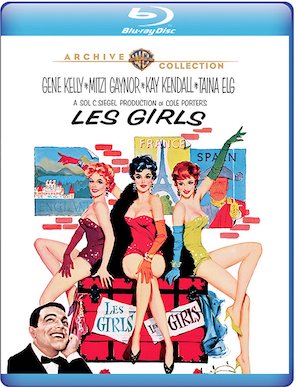 Les Girls is a fun film with plenty of musical numbers and Gene Kelly's delightful dancing. This 1957 film was the final movie for composer Cole Porter, and it was the final MGM musical for Kelly.
Mitzi Gaynor (Joy), Kay Kendall (Sybil), and Taina Elg (Angele) co-star with Kelly as a musical act in Europe. The film retells their story from the testimonies of Sybil and Angele, while in court years later for a libel suit. The problem is that both women remember their situation completely differently.
With an American woman, a French woman, and an English woman in the act with Barry Nichols (Kelly), he has his hands full. But the three women get along very well. Actually, they got along well when they were an act, however once the act split up, well, let's just say that they didn't see eye to eye.
There are musical numbers highlighting each of the cast as the story follows the first year of their new show, and viewers see the different interpretations by the characters as they are told in court years later. So, who is telling the truth and exactly what happened to the act? That is what the final scene is for, not for me to spoil it for you.
The bonus feature is very informative. Elg discusses the casting of the film and making the movie. She also discloses little known secrets and tidbits about the cast, including the fact that at the time of the production Gene Kelly was going through a painful divorce.
Les Girls won an Academy Award for "Best Costume Design" (Orry-Kelly), and was nominated for several other awards and accrued three Golden Globes (Best Motion Picture/Musical or Comedy and Best Actress/Musical or Comedy was a tie with Kendall and Elg).
Les Girls is a fun movie with a delightful cast. The songs, however, are not memorable as in most of the previous Cole Porter films.
Les Girls is part of the Warner Archive Collection and can be purchased at their website or online retailers where DVDs and Blu-rays® are sold.
About the Author
Francine Brokaw has been covering all aspects of the entertainment industry for over 20 years. She also writes about products and travel. She has been published in national and international newspapers and magazines as well as Internet websites. She has written her own book, Beyond the Red Carpet The World of Entertainment Journalists, from Sourced Media Books.
Follow her on Twitter