Lego Star Wars: The New Yoda Chronicles on DVD
Category:
Blu-ray's and DVD's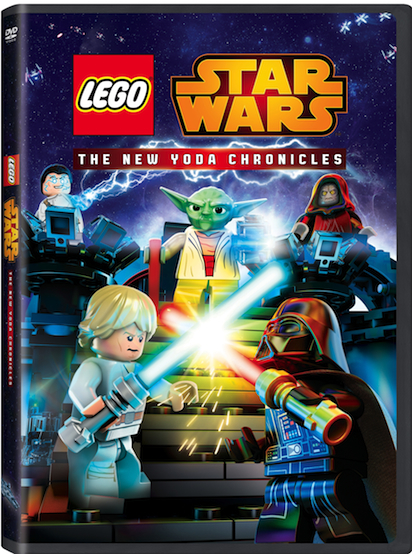 What do you get when you combine Lego and Star Wars? Some pretty cute characters, that's what. Lego lovers and Star Wars enthusiasts will experience some fun thrills, not to mention cute one-liners, in the Lego Star Wars: The New Yoda Chronicles collection on DVD.
Four complete episodes make up this light-hearted look at the world of Star Wars. With a mash-up of characters from the movies and fun jokes, the stories are great for kids and adults.
What makes this especially enjoyable are the clever lines and the way the characters don't take themselves too seriously. At one point, Yoda is called a little green man. Funny, it is.
Obi-Wan, Dart Vader, Luke, Leia, Han Solo, C3PO, R2D2, Anakin, the Emperor, Stormtroopers, and other characters that have become part of our pop culture combine in this collection of Star Wars stories with a twist. They are all Lego characters with Lego accessories and spaceships.
The appeal to younger – and even older – viewers is the tongue-in-cheek approach to the adventures. They are more fun than frightening. They are comical and enjoyable stories that will have viewers smiling and chuckling as they see the battles and the characters interacting in a different way than they do in the highly acclaimed feature film franchise. This version of the characters is more entertaining for the younger viewers who might not be old enough to appreciate the feature films but still want to be Star Wars fans.
The New Yoda Chronicles is a seven-episode TV show. This collection includes four of those episodes, along with an alternate ending to "Clash of the Skywalkers." The series tells the Star Wars story with interlocking, intergalactic adventures.
The four 22-minute episodes in this collection are "Escape from the Jedi Temple" which originally aired May 4, 2014, "Race for the Holocrons" which originally aired June 15. 2015, "Raid on Coruscant" which premiered September 7, 2014, and "Clash of the Skywalkers" which premiered November 23, 2014.
There are 88 minutes of Lego Star Wars fun plus the bonus alternate ending.
Lego Star Wars: The New Yoda Chronicles is rated TV-Y7.
About the Author
Francine Brokaw has been covering all aspects of the entertainment business for 20 years. She also writes about technology and has been a travel writer for the past 12 years. She has been published in national and international newspapers and magazines as well as internet websites. She has written her own book, Beyond the Red Carpet The World of Entertainment Journalists, from Sourced Media Books.
Follow her on Twitter