'Learning to Drive' on DVD
Category:
Blu-ray's and DVD's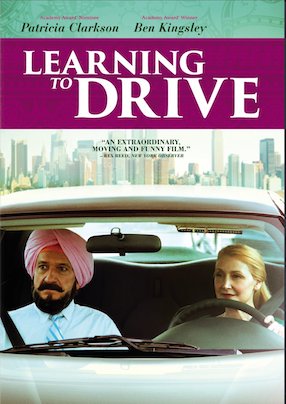 Patricia Clarkson and Ben Kingsley star in this story of two people from different backgrounds who help each other through difficult times. Learning to Drive is an interesting movie combining cultures.
Wendy (Clarkson) just learned her husband is leaving her. This confrontation takes place in the back of Darwan's (Kingsley) cab. When he sees she has left something in the car, the next day he delivers it to her Manhattan home. It's there that she learns he is not only a taxi driver but also a driving instructor. Wendy doesn't drive. She has left that to her husband. Now that he is gone and her daughter is living in Vermont, she feels it is time to learn to drive. Although hesitant, she undertakes the lessons.
Darwan is a religious Sikh from India who is now an American citizen. He has patience and compassion for his new student and although she freaks out from time to time, he insists she continue driving.
Throughout this period of learning to drive, the two become friends and the trust that grows between them helps each of them to get back on the road, no pun intended.
Darwan has just married a woman from India that he had never met until the night before their wedding. She is shy and refuses to leave their apartment, although he encourages her to do so. He is a bit frustrated when he learns she is uneducated. He has enjoyed being with Wendy, an intelligent writer. He is unable to discuss poetry and other things with his wife.
Wendy is intimidated by driving the streets of Manhattan, and decides to quit. But when she changes her mind, Darwan is there to help her back on track.
Their friendship is exactly what each of them needs at this time in their lives. Wendy gets the courage to continue driving and continue living her life anew without her husband, and Darwan gives his wife the courage to start living her new life in America. While their marriages are at different points – hers is ending and his is just beginning – together they give strength to each other.
This is a rather sweet story of kindness, compassion, courage, and learning to take charge of your own life. It is also a look at the complexities of life and of two different cultures. Learning to Drive is rated R for language and sexual content.
About the Author
Francine Brokaw has been covering all aspects of the entertainment industry for 20 years. She also writes about products and travel. She has been published in national and international newspapers and magazines as well as Internet websites. She has written her own book, Beyond the Red Carpet The World of Entertainment Journalists, from Sourced Media Books.
Follow her on Twitter