'Lean on Pete' on Blu-ray
Category:
Blu-ray's and DVD's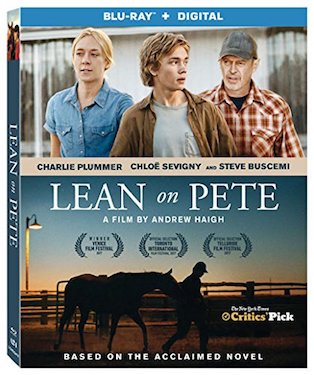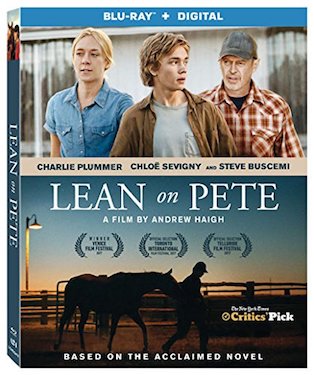 If you're in the mood for a deep drama, check out Lean on Pete. It's a bittersweet story, with the emphasis on the bitter and less on the sweet.
Charlie Plummer stars as 15-year-old Charley, a boy whose mother abandoned him and his dad when he was a child. Since then Charley and his dad have been moving around and getting jobs wherever they can. The latest move takes them from Spokane to Portland where Charley discovers a local racetrack. There he gets a job with Del Montgomery (Steve Buscemi) who takes him under his wing and teaches him how to care for horses.
Charley becomes attached to an aging racehorse named Lean on Pete. Pete becomes his best friend and confidante, so when he discovers his "friend" is about to go to the slaughterhouse he takes drastic measures.
There is a small spark of The Electric Horseman winding through the story, but just a bit. Charley know he has to get Pete away from there to save his life.
Charley goes on a physical and emotional journey, turning from a sweet, caring kid into a law-breaking do-anything tough street kid. Where is he taking Pete? Hopefully, they will both find their true home when he finds his long lost aunt.
This is definitely a drama in the true sense of the word. It's the story of being lost in the world and finally finding a home. It's the story of love and sensitivity.
The movie was the Heartland Film award for "Truly Moving Picture." Charlie Plummer won the Venice Film Festival award for "Best Young Actor or Actress."
Lean on Pete is rated R for language and brief violence. It's available on Blu-ray and also DVD. The bonus on the discs is a "making of" feature.
WARNING: Beware if you aren't comfortable watching animals die.
About the Author
Francine Brokaw has been covering all aspects of the entertainment industry for over 20 years. She also writes about products and travel. She has been published in national and international newspapers and magazines as well as Internet websites. She has written her own book, Beyond the Red Carpet The World of Entertainment Journalists, from Sourced Media Books.
Follow her on Twitter