Last Comic Standing Returns to NBC for Season Eight
Category:
Television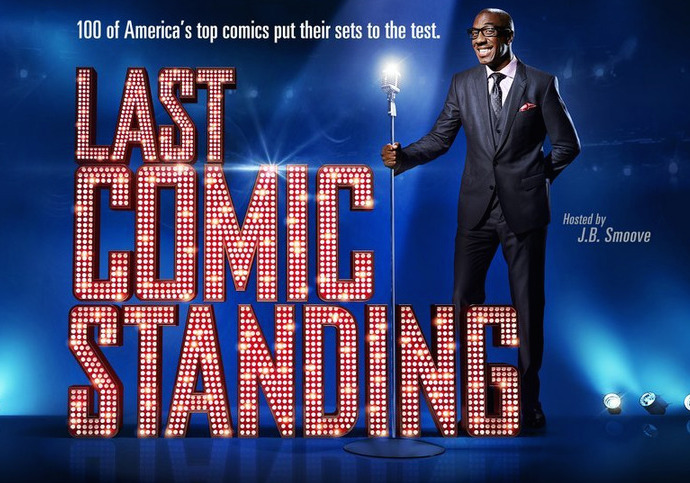 Last Comic Standing is returning for another season. Recently Executive Producer Wanda Sykes, celebrity judges Roseanne Barr, Keenan Ivory Wayans, and Russell Peters, along with the new host JB Smoove spoke to the media about the show.
"Instead of doing an HBO hour special, you're doing a four-and-a-half minute special," Sykes explained about the job of the comedians competing for top honors.

The celebrity judges are standup comedians in their own right, along with having great success in other areas. "You're not going to change your material for your audience," explained Wayans about the job of a comedian. "You are going to get your audience to change and laugh at your material, so they may have one state of mind, but your job as a comedian is to convince them that you're the funniest guy in this room, and by the time you leave this stage, they're going to agree with you." Barr added, "It's also about control. And you're in control of that room. That's a lot of what standup comedy is about."
Standup comedy is a tough business. Usually it's just the comic alone on the stage looking out at an audience expecting to laugh and be entertained. Talk about a lot of pressure. Without any special effects, others with which to interact, and tons of props, it basically comes down to the confidence, material, and especially the delivery of the comic.
"It relies just as much on what you're saying in that microphone as well as what you're hearing in response," explained Smoove. "The decibels go up a certain level, you got them; it comes down, it's time to move on to the next joke, keep it going. You know what I mean? Reading the audience is not just about looking around seeing who the hell is in the room. It's about using your skills, using that microphone, being able to raise your voice, lower your voice, to project, to listen very intently to what the audience is laughing at. What do they dig about you? Is it your eyebrow movement? Some people get a laugh by eyebrows. All that is part of standup not just saying stuff."
"Also it's about the relationship between you and the audience, and you're in control of that relationship," added Barr who explained, "That doesn't just happen the first time you walk out. You learn by failure." And Peters agreed, saying, "It's about creating trust." That sounds like a lot of pressure on the comic, however those who stick with it long enough are the ones that can adapt, learn, and continue with their craft.
About this show, Smoove wants people to know, "this is also a learning process for people out there who are watching the show to also get an inside view of what really goes down. It's not like going to a club; and you just go and bring your girlfriend and bring a friend to a club, you all just go laugh, leave to go home and tell the jokes at work the next day. You know what I mean? You're going to learn a lot more about what goes into being a standup comedian, preparation, the energy level, the performance, all these different rules.
"There's a lot of rules to comedy that people are going to learn watching this show, and not just laughing at the comedians, but learning the process, the story behind this guy, where he came from, what inspires him, what makes him laugh, why are they here on this show?"
Barr is excited to see the new batch of competitors. "It's also about admiring the level of their craft. It's taking comedy seriously, if that's a weird thing to say. To admire the level of these people's craft it's like ‑‑ you know, it's exciting and thrilling, too, to see how they're going to come out and work it."
Barr explained the old comedy clubs are dying out. When she began her career there were a lot more places to pursue her standup routine. She is enthusiastic about this TV show because it gives people a new site to work their craft. "I think that it's cool," she said. "I think [it's] a whole new beginning of media for comics."
This show could, like, be that ‑‑ it could be that where people would be like, "I'm going to work really hard this year and get my timing down so I can go on 'Last Comic Standing.'" I think that it's cool. I think a whole new beginning of, you know, media for comics.
Season eight of Last Comic Standing premiers on NBC May 22.
About the Author
Francine Brokaw has been covering all aspects of the entertainment business for 20 years. She also writes about technology and has been a travel writer for the past 12 years. She has been published in national and international newspapers and magazines as well as internet websites. She has written her own book, Beyond the Red Carpet The World of Entertainment Journalists, from Sourced Media Books.
Follow her on Twitter
Like her on Facebook