'Lady and the Tramp' Signature Collection
Category:
Blu-ray's and DVD's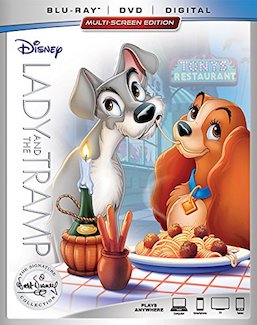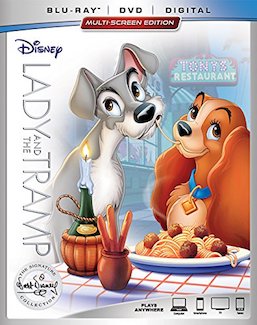 The 1955 animated classic brings together two memorable characters: the prim and proper Cocker Spaniel Lady and the rough and tumble pooch about town Tramp. And of course, at the end, the couple's puppies are introduced, setting the stage for the 2001 sequel. Lady and the Tramp has been a beloved film for several generations.
Every animal in the movie has a personality all his/her own. They are a memorable group filled with humor and emotions.
The romantic restaurant scene in which Lady and Tramp share a plate of spaghetti and meatballs, and even one strand of spaghetti that results in a memorable screen kiss, ranks among the film industry's most romantic moments. And this is an animated film! Plus, more romance ensues when Tramp gives the last meatball to Lady.
This edition has three ways to view the classic movie. First, there is the original theatrical edition. There is also a "Sing-Along-Mode" where viewers can sing the songs with the film. And finally, viewers can select the third option, which allows them to hear Walt discuss the various characters and scenes as the movie plays on the screen.
New bonus features for this Signature Collection edition include a cooking lesson as an homage to the spaghetti and meatballs scene, a tour of Walt Disney's offices at the studio, and a feature about Walt and his love of dogs. Viewers learn that the scene in the movie where Lady is given as a gift, wrapped up in a hatbox, was taken from Walt's own life. Yes, he surprised his wife with a puppy that same way, and that incident made its way into the movie.
There are also bonus features from the classic editions, including deleted scenes, a "making of" feature, storyboarding the movie, and a feature where Diane Disney Miller discusses her parents and viewers see the Disney's apartment above the firehouse in Disneyland. Plus, the song "I'm Free as the Breeze" was supposed to be sung by Tramp before the filmmakers decided not to have him sing at all, however the song is a delightful ditty and would have been a nice addition to the movie.
The Signature Collection edition of Lady and the Tramp includes a Blu-ray, DVD, and Digital code. It is rated G for the entire family. Grab some popcorn and gather up the family. It's time for a classic and endearing story of puppy love.
About the Author
Francine Brokaw has been covering all aspects of the entertainment industry for over 20 years. She also writes about products and travel. She has been published in national and international newspapers and magazines as well as Internet websites. She has written her own book, Beyond the Red Carpet The World of Entertainment Journalists, from Sourced Media Books.
Follow her on Twitter