'Krystal' on DVD
Category:
Blu-ray's and DVD's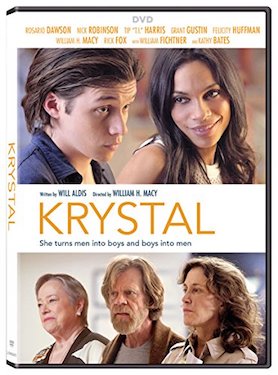 Krystal is a whacky story about an 18-year-old boy who falls in love with an older woman. The redeeming part of this somewhat farcical film is the brilliant acting of Nick Robinson who plays 18-year-old Taylor.
Taylor has a heart condition and during times of stress his heart races – it really races. Sometimes he has to go to the hospital to get it to slow back down. But he has come to terms with the situation and understands he must stay as calm as possible and avoid stress.
Then he meets Krystal (Rosario Dawson), a kind woman who becomes the object of his affections. He decides he will do anything to get her attention and win her heart. When he sees her go into an AA meeting, he follows. And, lo and behold, he begins acting like an alcoholic. After all, if they have that in common, perhaps she will be more interested in him.
But not only does he pretend to be an alcoholic (he has never had a drink in his life), he tells her his whole family are alcoholics so when they are around her, well, you get the picture. Everyone is pretending to be something he/she isn't.
Felicity Huffman and William H. Macy play his parents and Macy directed the film. The story includes plenty of mischief and some sensitive scenes as well as some comical ones. There is a thread weaving itself through the story and connecting all the players, and that is Krystal. Her past comes back to haunt her and not only does it haunt her and she her son – did I forget to mention she has a 16-year-old son (Jacob Latimore) who is in a wheelchair? – but also her ex-husband (T.I.) and Taylor's family. Talk about a far-fetched story. But there is something a "little" endearing about it, nonetheless. Perhaps it is the heartfelt feelings of young Taylor. He's the best part of the story.
There are no bonus features on the DVD.
Krystal is rated R for language throughout, drug use, some nudity and brief sexuality.
About the Author
Francine Brokaw has been covering all aspects of the entertainment industry for over 20 years. She also writes about products and travel. She has been published in national and international newspapers and magazines as well as Internet websites. She has written her own book, Beyond the Red Carpet The World of Entertainment Journalists, from Sourced Media Books.
Follow her on Twitter