'Kotch' on Blu-ray'
Category:
Blu-ray's and DVD's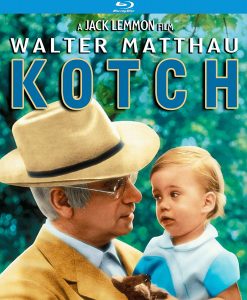 Walter Matthau stars in Kotch, a 1971 comedy drama about an aging man who just wants to do something useful with his life.  Matthau's friend Jack Lemmon directed the film.
Joe Kotcher is currently living with his son (Charles Aidman), daughter-in-law (Felicia Farr), and toddler grandson Duncan. He delights in spending time with the little boy. They do all kinds of fun things together, however his way of handling the kid differs from his daughter-in-law's views. She is frustrated with having him around all the time. So off he goes to a retirement community.
But Kotch doesn't stay there. Instead, he leaves and hunts down Erica (Deborah Winters), the babysitter that worked for the family for a while. He discovers she is in a family way and sets out to be her friend and take care of her. This leads him up and down the coast, finally ending up in Palm Springs.
Erica and Kotch are a good pair. She needs him for support and he needs to be needed. Otherwise he would be a lonely man with nothing to do with his life.
The story is mostly a drama with some fun scenes sprinkled in. It's impossible not to feel empathy for this man. He definitely has a lot to give, but his family won't let him give it to them. So Erica becomes the recipient of all his knowledge and support.
Matthau was nominated for an Academy Award for "Best Actor in a Leading Role" and the film's song, "Life is What You Make It" was also nominated. In those days songs were composed specifically for films, and in this case Marvin Hamlisch and Johnny Mercer penned a lovely song that still touches hearts today. This song did win the Golden Globe that year.
If you haven't seen this film, it's time to catch up with Kotch, now available on Blu-ray. It shows that no matter how old you are, you can still be a contributing and caring person.
About the Author
Francine Brokaw has been covering all aspects of the entertainment industry for over 25 years. She also writes about products and travel. She has been published in national and international newspapers and magazines as well as Internet websites. She has written her own book, Beyond the Red Carpet The World of Entertainment Journalists, from Sourced Media Books, is the entertainment correspondent for Good Day Orange County, and has her own TV show, Beyond the Red Carpet, on Village Television in Orange County.
Follow her on Twitter