Klondike Mini-Series on Discovery
Category:
Television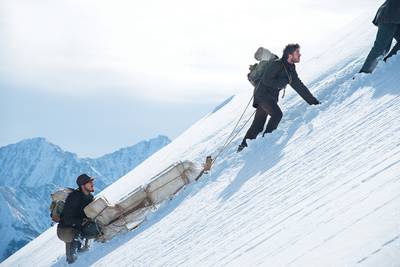 Klondike is the first scripted series for Discovery Channel. "We have wanted to get into the scripted game for quite some time but knew we needed to wait for the right script," said Eileen O'Neill, Group President, Discovery Channel and TLC, and Klondike Executive Producer. "We had to think about the kind of story that would appeal to our audience but also be something everyone would enjoy. When Klondike came along, there was no question that this was the story we were meant to tell. This is truly a coming of age story about love, friendship and family but also a story about greed and how it can turn people. Klondike is a beautiful, exciting and epic tale that revolves around GOLD! There truly could not be a better story for Discovery to tell."
The three-part, six hour series is based on the Charlotte Gray book Gold Diggers: Striking It Rich in the Klondike. The story takes place in the late 1890s and revolves around two best friends, Bill Haskell (Richard Madden) and Byron Epstein (Angustus Prew). Fresh from their college graduation, the two decide to do something special and head to Dawson City to strike it rich in the new gold rush.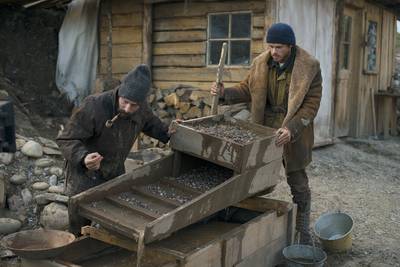 Bill and Byron meet several interesting characters on their way up to and in Dawson. Father Judge (Sam Shepard) is a Catholic priest who is starting a new church in the lawless town of Dawson. Belinda (Abbie Cornish) is a tough-talking, hard-working businesswoman in Dawson. Sabine (Conor Leslie) is a local prostitute. Jack London (Johnny Simmons) is a writer gathering plenty of stories while in this new land. The Count (Tim Roth) is a devious land-grabbing, gold-stealing thug with a gang that carries out his every whim. Meeker (Tim Blake Nelson) is a nice man who befriends Haskell and becomes his partner.
This colorful group of characters, along with a few more, make this a hard hitting story of the rough life and times of the gold miners and the people who follow them to the land of hard winters, barren mines, riches, and everything else.
After a senseless murder, the Mounties arrive to bring law to this lawless area, but are they truly effective or are they, or those in their ranks, as corrupt as those they are there to protect? The wilderness is filled with all kinds of people, and the thought of striking it rich brings out the worst in humans.
Plenty of blood, foul language, perilous situations, nudity, sexual situations, and subject matter make this not suitable for young viewers. Otherwise, it is a mini-series that will have some interest to those who wonder what life was like in the middle of nowhere, in a time when people would kill for a little gold, where there were basically no laws, and where humanity was on the brink of falling over the proverbial cliff. Through it all, however, some kindness prevailed and glimpses of true compassion emerged.
Klondike premiers on Discovery Channel Monday, January 20, 2014 with part two airing Tuesday, January 21, followed by the conclusion on Wednesday, January 22.
Personal note: Have some hot chocolate or a hot cup of coffee when you're watching this. It's freezing in them thar hills!
Photos: Courtesy Discovery Channel/Dan Powers
About the Author
Francine Brokaw has been covering all aspects of the entertainment business for 20 years. She also writes about technology and has been a travel writer for the past 12 years. She has been published in national and international newspapers and magazines as well as Internet websites. She has written her own book, Beyond the Red Carpet: The World of Entertainment Journalists, from Sourced Media Books.
Follow her on Twitter
Like her on Facebook