'King of Thieves' – Movie Review
Category:
Movies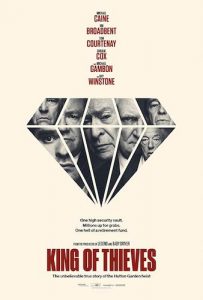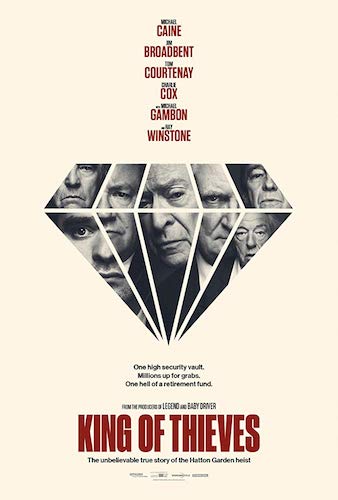 Take four very senior retired crooks, add one eager newcomer, mix together gold, money, and diamonds and you have King of Thieves. This movie is based on a true story of an elderly group of thieves who pull off the biggest heist in London's history.
Michael Caine, Jim Broadbent, Tom Courtenay, Michael Gambon, Ray Winstone, and Charlie Cox make this an entertaining heist film with some added humor. There is diabetes, arthritis, loss of hearing, an enlarged prostate, and a slew of other medical conditions that make this group something for the record books. Besides the ailments, they have determination. They definitely want to pull off this heist in the middle of the jewelry district.
When the leader, Brian (Caine), decides things are getting out of hand, he pulls out of the final plan at the last minute leaving the others to go ahead. And they do. And they are successful. But once the deed is done they start distrusting each other and the over 200 million pounds worth of jewels and money is up for grabs. Who is going to outsmart whom? Who gets how much of the loot? Who is planning on backstabbing the others?
The robbery is an embarrassment for the police. They start their detailed investigation and they wind up identifying the all but one of the men involved in the heist.
The heist is remarkable in itself, but being that it was pulled off by this particular group of elderly men makes it that much more amazing. As one of them comments, "It's like the blind leading the deaf."
At the end of the film viewers learn what happened to the men. Remember, this actually happened. And the men, even though they suffer from a variety of ailments and afflictions, not to mention advanced age, say that inside they still feel like they are in their twenties. But watch out, they cannot move like they are in their twenties. They hobble and wobble, which makes this part of the fun.
King of Thieves is rated R for language throughout. It opens in theaters January 25, 2019.
About the Author
Francine Brokaw has been covering all aspects of the entertainment industry for over 25 years. She also writes about products and travel. She has been published in national and international newspapers and magazines as well as Internet websites. She has written her own book, Beyond the Red Carpet The World of Entertainment Journalists, from Sourced Media Books, is the entertainment correspondent for Good Day Orange County, and has her own TV show, Beyond the Red Carpet, on Village Television in Orange County.
Follow her on Twitter