Kids Are Weird: And Other Observations from Parenthood By Jeffrey Brown - Book Review
Category:
Books and Music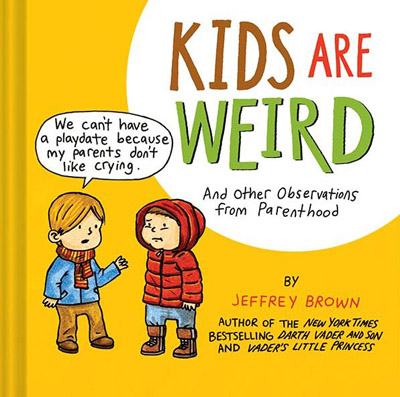 Jeffrey Brown has taken everyday situation and conversations with his kid and putting them in a humorous collection of pages most parents can appreciate and definitely enjoy. Kids are Weird is a fun collection of situations in which Brown demonstrates how his five-year-old son Oscar deals with life. As they say, "Kids say the darndest things," and Oscar definitely does.
How do kids look at life and what do they repeat from conversations they hear? And just exactly how do they translate things in their own minds? Anyone who has been around kids will definitely see some similarities between this little guy and other kids. They all find fascination with eating "boogers."
Kids are curious. Kids see things differently than adults. Kids take awhile to understand some things. Kids say things without thinking. Kids are downright funny even though they don't mean to be.
This fun little book brings all the fun and funny reflections of little Oscar to the pages in a whimsical collection designed to entertain, delight, and even strike some chords with other parents. Through cute illustrations, like comic strips, Oscar will have readers chuckling and at times laughing out loud.
If you find yourself looking for a fun Mother's Day or Father's Day gift, definitely keep this book in mind. It's a little book filled with a lot of childhood philosophies and musings.
Kids are Weird: And Other Observations from Parenthood
By Jeffrey Brown
Publisher: Chronicle Books LLC
Publication date: 3/18/2014
Pages: 108
ISBN-13: 9781452118703
About the Author
Francine Brokaw has been covering all aspects of the entertainment business for 20 years. She also writes about technology and has been a travel writer for the past 12 years. She has been published in national and international newspapers and magazines as well as internet websites. She has written her own book, Beyond the Red Carpet The World of Entertainment Journalists, from Sourced Media Books.
Follow her on Twitter
Like her on Facebook