'Kid Galahad' on Blu-ray from Twilight Time
Category:
Blu-ray's and DVD's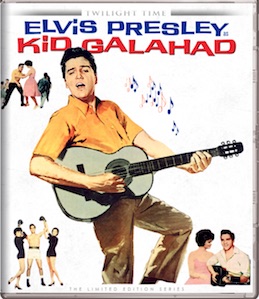 Kid Galahad is a simple, fun, little film with all the Elvis charm and plenty of music. This 1962 movie has Elvis boxing his way to fame and fortune as he earns enough money to buy a little garage, which is his dream. He's a wiz at mechanics.
When he is discharged from the Army, Willy Gulick (Presley) returns to Cream Valley, the small town in which he was born. It's there where an unscrupulous man who runs a boxing camp takes him under his wing. Willy Grogan (Gig Young) only thinks about himself and he is really a man without any appeal. His mind is only on the bottom line, in other words, how he can make money. He had no feelings for others.
Walter is tagged with the name "Galahad" because he is so charming and respectful of women and others. The camp's trainer (Charles Bronson) helps Walter in the ring, but he doesn't need any help on the outside. He and Willy's sister Rose (Joan Blackman) fall in love, to the dismay of Willy who still sees his sister as a little girl, not the young woman she has become.
Willy has been stringing along his own girlfriend Dolly (Lola Albright) for three years. This man has no scruples. He is only into anything that helps himself. And he has managed to get deeply involved with the mob, although he doesn't want to be.
So, there's Walter, who's only fighting until he makes enough money to fulfill his dream. There's Rose who is falling in love with him. There's Dolly, Willy's girlfriend he has been stringing along for three years. And there's Willy, the low-life who doesn't seem to have anyone's good will in mind except his own. And the mob is out to make money off of Willy who has managed to get himself in deeper trouble with the bosses. Now mix that with Elvis's songs and you have a simple, tuneful, simple little story that is typical Elvis Presley.
Interestingly enough, Presley and Blackman starred together the previous year in the hit film Blue Hawaii. And Blackman and Albright costarred on the TV series Peyton Place.
If you're an Elvis fan, then you'll definitely enjoy Kid Galahad. The new Twilight Time Blu-ray edition includes a booklet about the film, which is described as a "warm, genial, corny slice of Americana with considerable charm."
About the Author
Francine Brokaw has been covering all aspects of the entertainment industry for over 20 years. She also writes about products and travel. She has been published in national and international newspapers and magazines as well as Internet websites. She has written her own book, Beyond the Red Carpet The World of Entertainment Journalists, from Sourced Media Books.
Follow her on Twitter