Justin and the Knights of Valor on DVD
Category:
Blu-ray's and DVD's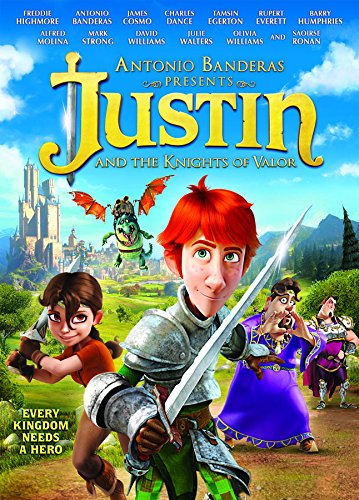 The message in this animated film is believe in yourself, which makes it a great little movie for youngsters. Justin, a smart and brave lad, is supposed to go to law school to follow in the footsteps of his father. But Justin would rather follow in the footsteps of his grandfather and become a knight. Justin and the Knights of Valor has plenty of tender moments as well as scenes of bravery and courage.
The country is in chaos. Justin's grandfather, Sir Roland, was a great knight and served the country well. But Justin's father decided knights should be outlawed and replaced by a lot of laws. A lot of laws! The knights were banished, but that didn't stop Justin from dreaming about the glory days of old.
He takes off to learn the ways of knighthood, which means gaining the skills necessary to fight the power-hungry army that is collecting to overthrow the queen. For those of us who are older, this part of the story is reminiscent of the 1984 movie The Karate Kid when Mr. Miyagi is training Daniel. It also has shades of Kung Fu Panda when Po is learning the tricks of the trade, so to speak.
But that is only part of the story. Justin is put to the test and with the help and support of his friends, he must dig deep inside to find the courage, strength, and wisdom to save the queen.
There are some fun characters in this story. Talia is cute yet feisty girl who wants Justin to succeed.
Freddie Highmore voices Justin. Antonio Banderas, James Cosmo, Michael Culkin, Rupert Everett, Alfred Molina, Saoirse Ronan, and Julie Walters also provide voices for the film. Banderas also produced the movie.
The bonus feature on the DVD is a look behind the scenes and characters with the actors. It is also available on Blu-ray.
Justin and the Knights of Valor is a cute story that both boys and girls will enjoy. This animated adventure is filled with heart and plenty of entertainment. It's rated PG for mild action and some rude humor.
About the Author
Francine Brokaw has been covering all aspects of the entertainment business for 20 years. She also writes about technology and has been a travel writer for the past 12 years. She has been published in national and international newspapers and magazines as well as internet websites. She has written her own book, Beyond the Red Carpet The World of Entertainment Journalists, from Sourced Media Books.
Follow her on Twitter
Like her on Facebook