'Juliet, Naked' on Blu-ray
Category:
Blu-ray's and DVD's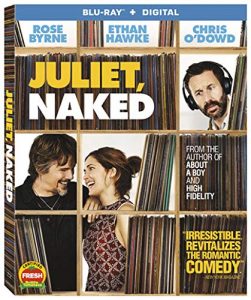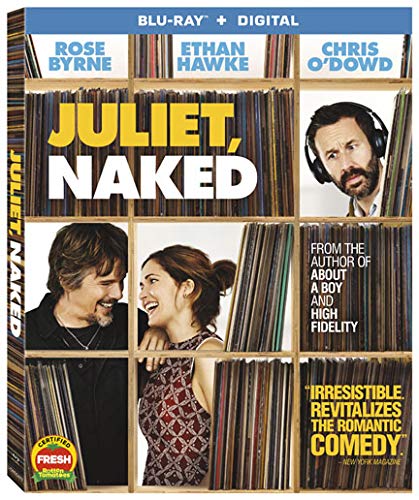 Rose Byrne, Ethan Hawke, and Chris O'Dowd star in Juliet, Naked, an interesting romantic dramedy filled with touching moments.
Annie (Byrne) has been living with her boyfriend Duncan (O'Dowd) for 18 years. She works at a gallery and he is a teacher. But he's more than that. Duncan is a fanatic about Tucker Crowe (Hawke), a singer-songwriter from ages ago who dropped out of sight and hasn't been heard from in decades. But that doesn't stop Duncan from keeping his shrine to the long-lost singer, and he maintains a blog about everything Tucker Crowe. This obsession with Crowe is insidious in his life.
When Annie posts a negative comment on Duncan's blog she gets a reply – from Tucker Crowe himself. Annie and Duncan carry on an email relationship with him in the U.S.A. and she in England. Annie keeps this a secret from Duncan, and after awhile the two break up due to Duncan's infidelity. But that doesn't bother Annie too much. She has her relationship with Tucker.
Tucker has been dealing with his own personal conflicts. He has five children from various women, but only really knows one of them – his youngest son Jackson (Azhy Robertson). Tucker takes care of this young boy while his mother is living her own life. He feels a twinge of sadness about neglecting his other children, and as the film progresses his past is revealed.
Then Tucker and Jackson travel to England for the birth of Tucker's grandchild and he and Annie finally meet.
The story is interesting and filled with an odd assortment of characters. But it is a compelling story and one that resonates with viewers. It might bring up memories of You've Got Mail, but just for a bit. It's interesting how honest people are when they are communicating through email.
What will happen with Duncan when he finds out his ex is having a relationship with the man of his obsessions?
The bonus feature is a behind-the-scenes look at the story with the cast and filmmakers. Producer Jeffrey Soros explains he feels "If About a Boy and High Fidelity had a baby it would be Juliet, Naked."
This is definitely an odd story with a mix of offbeat characters. The only one with a basically normal life is Annie. Although it is filled with quirky characters, the movie is interesting and enjoyable.
Juliet, Naked is rated R for language.
About the Author
Francine Brokaw has been covering all aspects of the entertainment industry for over 25 years. She also writes about products and travel. She has been published in national and international newspapers and magazines as well as Internet websites. She has written her own book, Beyond the Red Carpet The World of Entertainment Journalists, from Sourced Media Books.
Follow her on Twitter