'Julie's Greenroom' Coming to Netflix in 2017!
Category:
Sneak Peeks & Trailers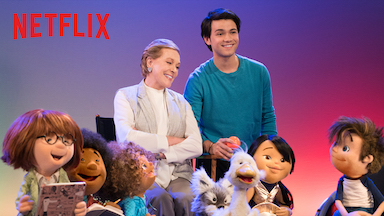 Ms. Julie and her devoted assistant Gus (Giullian Yao Gioiello) bring the performing arts to a new generation of kids known as the "Greenies," played by original puppet characters built by the renowned Jim Henson's Creature Shop. The Greenies are a diverse group of kids who are mesmerized by all that the arts and creativity has to offer. Over the course of the season, with Ms. Julie's guidance and inspiration from the visiting guest artists, the kids create an entirely original new show, that is a mashup of all the performing arts including mime, music, dance, improv, circus arts, voice and more.
Ms. Andrews commented that "this project represents the fulfilment of a long held dream to educate children about the wonder of the arts. I am thrilled to be partnering with my daughter and long time coauthor, Emma, to bring this show to life along with our co-creator, Judy Rothman-Rofė. We could not be more honored to be working with the extraordinary Jim Henson Company. We are equally delighted to be premiering as a Netflix original production."
Julie's Greenroom will be coming to Netflix in early 2017.