John Travolta Talks "American Crime Story: The People v. O.J. Simpson"
Category:
Television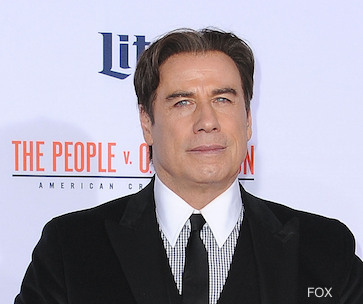 "This story is one of the great American stories. This is the story about everything that obsesses the American people. This is the story about race, sex, violence, sports, Hollywood, and the only eyewitness is a dog," states The Run of His Life: The People v. O.J. Simpson author Jeffrey Toobin.
Toobin was referring to the arrest, the trial, and subsequent acquittal of the football icon in the murders of his wife Nicole Brown Simpson and her friend Ronald Goldman. From the moment Simpson stepped into that white Ford Bronco until his acquittal in 1995, more than 100 million American viewers accompanied him on his journey.
Despite the passage of two decades, the issue of different perspectives on the justice system and charges of police brutality continue to dominate the headlines almost daily.
Premiering Tuesday, February 2, 2016, FX's 10-episode limited series, The People v. O.J. Simpson: American Crime Story won't contemplate the defendant's quilt or innocence, but instead offers some insight into why the jury had no other alternative then to reach their not-guilty verdict and what it meant to the people involved.
Heading the impressive cast is Oscar winner Cuba Gooding Jr. as Simpson, but much of the focus is directed at the lawyers on both sides of the courtroom, beginning with Courtney B. Vance as Simpson's head counsel Johnnie Cochran, who uttered those immortal words over a pair of shrunken leather gloves, "If it doesn't fit, you must acquit." That immortal phrase continues to be part of the legal community's general lexicon.
The defense team also boasts John Travolta as Robert Shapiro, along with David Schwimmer as Robert Kardashian, sire of the notorious reality TV family, whose domain was business law. Among the opposing legal eagles is Sarah Paulson as Marcia Clark, Sterling K. Brown as Christopher Darden and Bruce Greenwood as then District Attorney Gil Garcetti. Presiding over the cast is Kenneth Choi as Judge Lance Ito.
Not everyone was immediately sold on the idea of participating. It took Travolta four months of coaxing to return to the small tube for the first time since his breakthrough run in Welcome Back Kotter which ended in 1979.
Travolta explained, "I wanted to be certain that it was going to be a multilayered message. As further assurance, executive producers Ryan Murphy and Nina Jacobson allowed me to have some participation in the production as insurance that the product would not be going in a sensationalist way, but in a way that communicated and enlightened. I never needed to assert that producer card, because everyone was so excellent in their departments."
In inviting the audience to take the journey with him, Travolta built his character in layers. "Before I do any hair and makeup, I see if I can mimic the behavior. So after watching all the videos and reading a lot about him, I decided that I could do it with or without the makeup.
"TV is a visual media, so I like to invite the audience in and not have the story upstaged by my visuals like when I did Clinton."
In that vein, how much did he add to duplicate Shapiro's eyebrows? "If you studied him it was an along with a receding hairline. The combination was what sold it and he had a bigger lower lip. When I spoke, I spoke with a protrusion, and he had a little cadence to his voice. Those were the things I used."
While Travolta never personally reached out to Shapiro, he exhibited an obvious empathy for the man. "Yes, it's true. Especially, when he was demoted and Cochran moved up to head counsel. There's a scene, that really happened, that I'm hoping they keep in, where he's in the temple and he's pissed. They ask him to hold the Torah. He's going in with the pride Robert has, and he starts to hear groans from the people gathered. And you see him crumble. I fought to keep it in, because I wanted some semblance of his humanity. The only time he shows it is in his love for his wife and the implication that he loves his kids."
Did Travolta's character really believe his client was guilty? "While no one can be absolutely certain, I played it as if Shapiro always knew he did it, but was portraying what his client told him, but the whole time he wanted to settle. He wanted to get a good deal out of it," he said.
Shapiro's determination to settle leads to what Travolta labels "the most despicable scene I've ever played in my life. "I blackmailed Kardashian, because I wanted him to talk the group into settling. He won't and I suddenly start to leverage him, make him think he might be put in jail for it. It's awful what he does at that moment and I was so uncomfortable playing Shapiro, but it's one of the best moments in the whole series, because you can't believe what he's doing," Travolta interjected.
Acknowledging that The People v. O.J. Simpson has generated an unprecedented favorable buzz, Travolta, who hasn't yet seen the finished project. He concluded, "The writing was so through as to what each character was thinking and the reception from the media so responsive, that I can now watch it and enjoy it and just let myself go."
About the Author
Winnie Bonelli is a former entertainment editor for a daily metropolitan New York City area newspaper. She is passionate about movies and television and loves to take readers behind the scenes.