John Stamos Stars in Grandfathered
Category:
Television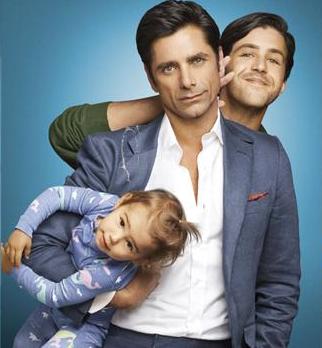 John Stamos returns to sitcom television with, yes, once again, a pair of twins. He stars in the new Fox series Grandfathered in which he plays Jimmy, a cool, hip, restaurateur who in one day discovers he is not only a father, but also a grandfather. This single guy has no idea how is life is about to change.
Stamos admitted to the media, "This is the show I've been waiting for, for ten years. I mean, I couldn't be more grateful for this particular type of show." He explained that Daniel Chun approached him with the idea of the series. Chun told him, "I have an idea where it's sort of an unconventional family show where you play kind of swinging dude. A George Clooney before he turned against everything he believed in and got married."
Stamos thought it was a great idea. "But I did that with Jack Klugman, a show called You Again, where I was the son. He said, 'Well, I have one little twist.' And he was sort of reticent to say it. He said, 'What if you're a grandfather?' And I said, 'Yes, that's it.' So that's sort of how it came about. And I'm happy to be a part of it."
His character has a great life. He is free to date, play, make his restaurant the "in" place in town, and just be free. But everything is about to change.
I asked the actor if he had any paternal feelings for the little kids he works with now and in the past. By the way, they are using twins for this show like they did in Full House. "Do you see a pattern in my work?" he asked me. "You know, if I can't have them, we'll cast them. Yes, I do. I mean, you know, clearly, I mean, that's something that's missing in Jimmy's life. And again, you know, it's a little autobiographical, but it's something that I would still hope to achieve some day, is to be a father, because I really love it. I feel like I'm a baby whisperer now."
Stamos is a busy man these days, making Grandfathered for Fox and Fuller Houseefor Netflix. "We're doing 13 episodes for Netflix. And, you know, I don't want to talk too much about that show, but I'm so excited to bring it back, and doing Netflix."
Grandfathered is close to his heart as well as his previous sitcom. "What I would like to say too, it's a very relatable high concept show, but again, an unconventional family show. But family [comes] first on this [show]. And I love the way that the new scripts are turning out." Family shows are important to this actor, and he admitted he was close to his own grandfather.
"I did grow up with my grandfather. He was Greek. He was originally Stamotopolos. He cut it off at Ellis Island. And he was a great man. He was a tomato farmer. But I lost my dad at a semi early age. He was in his early 60s. And I love the energy of being around grandfather types. The Garry Marshalls, you know, Don Rickles, [and] Jack Klugman, I was very, very close with. So I like that energy. And now I guess I'm that guy."
Stamos first burst into the public's attention playing Blackie in the soap opera General Hospital in 1983. He then soared as Jesse in the series Full House (1987-1995). He has appeared in several TV movies and series, including as Dr. Tony Gates on the drama series ER from 2005-2009. The popular actor is hoping for another long run with this new sitcom.
Even though he is still an "eligible bachelor" and considered "a great catch" John Stamos has become a middle-aged man. As much as he still looks young and is energetic, he cannot avoid aging like the rest of us. Yes, he just turned 52, but ladies, let me tell you, he still looks great and has a personality to match as well as self-deprecating humor and a lot of heart.
Grandfathered premiers September 29, 2015 on Fox.
About the Author
Francine Brokaw has been covering all aspects of the entertainment business for 20 years. She also writes about technology and has been a travel writer for the past 12 years. She has been published in national and international newspapers and magazines as well as internet websites. She has written her own book, Beyond the Red Carpet The World of Entertainment Journalists, from Sourced Media Books.
Follow her on Twitter