John F. Kennedy Commemorative Stamp
Category:
Sneak Peeks & Trailers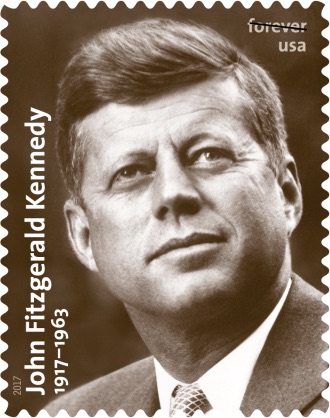 This stamp commemorates the 100th anniversary of the birth of John Fitzgerald Kennedy (1917-1963), 35th president of the United States. Kennedy was the nation's first Catholic president and, at age 43, the youngest person ever elected to the nation's highest office. The stamp art features a photograph of Kennedy taken by Ted Spiegel in 1960. Kennedy remains for many a captivating and charismatic personality — one who appealed to the nation's higher ideals and inspired young Americans to engage in public service. Art director Derry Noyes designed the stamp.
JFK was born in Brookline, Massachusetts on May 29, 1917. He died in Dallas, Texas on November 22, 1963. President Kennedy is buried at Arlington National Cemetery under an eternal flame, alongside his wife Jacqueline, and their two children, one of which was stillborn and the other lived less than two days.
The stamp will be issued on President's Day (Feb. 21, 2017) and available in post offices nationwide beginning Feb. 22.
Trademark and Copyright USPS.