Jersey Boys on Blu-ray
Category:
Blu-ray's and DVD's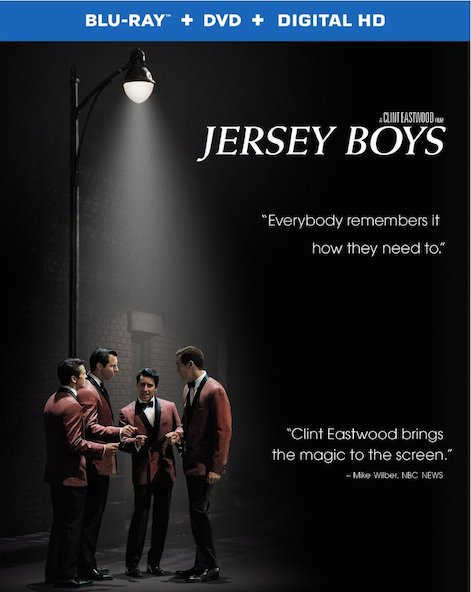 Jersey Boys has played on stage for years with rave reviews. Now director Clint Eastwood brings the popular stage play to the screen, and the home entertainment release includes some insightful bonus features.
Jersey Boys is the story of Frankie Valli and The Four Seasons, a rock group who brought us some memorable songs. Sherry, Big Girls Don't Cry, Walk Like a Man, Dawn, Bye Bye Baby, Rag Doll, Who Love You, Let's Hang On, Working My Way Back to You, C'mon Marianne, December 1963 (Oh, What a Night), Can't Take My Eyes Off of You, My Eyes Adored You, and Heaven Must Have Sent You, among many others, are part of our musicology thanks to Frankie Valli and The Four Seasons.
So, who were The Four Seasons? The original members were Tommy DeVito, Nick Massi, Bob Gaudio and Frankie Valli. To make up the onscreen quartet, Eastwood pulled actors from the Las Vegas, San Francisco, and New York productions of the play. He added Vincent Piazza, a screen actor, to play Tommy DeVito, but used veteran Jersey Boys stage actors for the other three members. John Lloyd Young reprises his role of Valli, Michael Lomenda reprises his role of Nick Massi, and Eric Bergen reprises his stage role as Bob Gaudio.
In essence, Jersey Boys is the story of four "delinquents who make it big," as Eastwood explains. Had they not banded together, they probably would have ended up in a penitentiary, or dead. Their association with mobsters is well known, and their brushes with the law didn't help them. The only thing that helped keep them on the up and up was the music. Ultimately, four guys from the wrong side of the tracks in New Jersey were inducted into the Rock and Roll Hall of Fame in 1990. This movie is told through their four perspectives on how they went from singing under a light pole in New Jersey to the top of the charts. Their personal struggles, their sometimes-turbulent relationships with each other, their ups and downs, and everything else that happened to them play out on the screen. And, the best part is hearing the songs.
If you saw the stage play, you might not enjoy this film as much as those who have not seen it play out live, unless you are a music history enthusiast. If, however, you haven't seen the play, this is a good film about an influential group of musicians who made their mark on the music business and the world.
What is an interesting element in this film is the finale. Clint Eastwood wanted to pay homage to the stage actors, who would normally be called out at the end of the show for a final curtain call. So, Eastwood in his infinite wisdom, came up with a creative idea to have the cast sing a song and all come in together at the end, which makes the finale very memorable. Even Christopher Walken who plays Mafioso Gyp DeCarlo, joins the singers and dancers in this great ending.
The Combo Pack includes a DVD, a Blu-ray, and digital download. The movie is also available as a digital download and as a single disc DVD. Jersey Boys is rated R for language throughout.
About the Author
Francine Brokaw has been covering all aspects of the entertainment business for 20 years. She also writes about technology and has been a travel writer for the past 12 years. She has been published in national and international newspapers and magazines as well as internet websites. She has written her own book, Beyond the Red Carpet The World of Entertainment Journalists, from Sourced Media Books.
Follow her on Twitter
Like her on Facebook