Jasper: Journey to the End of the World
Category:
Blu-ray's and DVD's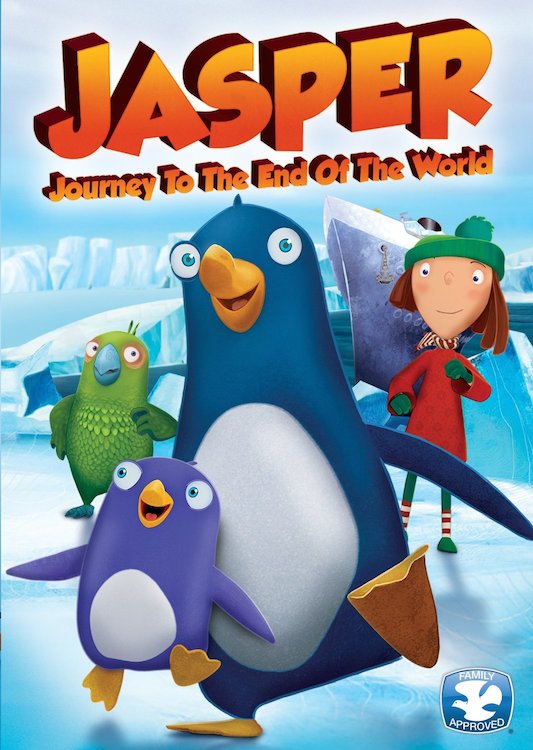 Jasper: Journey to the End of the World is a cute movie filled with fun characters and an inquisitive little star. Jasper is a playful, klutzy, excited, and energetic penguin and knows deep in his heart there is more to the world than his icy home in the South Pole. He is told that the earth is flat and there is nothing beyond the icebergs in their small little enclave. His parents want him to simply "do homework, eat seaweed, and walk in single file." But the little fellow knows there is more out in the big world and one day he gets the chance to see it.
When Jasper sees a "weird green bird" he knows there is something more out there. The bird says he lives in a warm place. This is new to the little penguin who tells the rest of the group. Obviously they don't believe him. But one day while watching his baby brother Junior, they accidentally find what is beyond the icebergs and meet new friends, along with a very bad man.
They end up on a large ship where nine-year-old Emma lives. Her father is the captain and she is a fun-loving but lonely little girl. Also on the ship are three stolen eggs from an endangered species of parrots.
Kakapo (the strange green bird) is on a secret mission to retrieve the stolen eggs. He enlists the help of Emma, Jasper, and even little Junior in this assignment.
I will admit that Junior is adorable, precious, and a scene- stealer. He's irresistible. Kakapo is also a fun character. And Emma is a sweet girl with a heart of gold. Of course, the star of the show is Jasper, a loveable little fellow who means well and has a lot of spirit and gumption. They're all fun characters and together make a fun story for the entire family.
Jasper: Journey to the End of the World is not rated but is suitable for all ages.
About the Author
Francine Brokaw has been covering all aspects of the entertainment business for 20 years. She also writes about technology and has been a travel writer for the past 12 years. She has been published in national and international newspapers and magazines as well as internet websites. She has written her own book, Beyond the Red Carpet The World of Entertainment Journalists, from Sourced Media Books.
Follow her on Twitter
Like her on Facebook