Jake Gyllenhaal Stars in 'Demolition'
Category:
Movies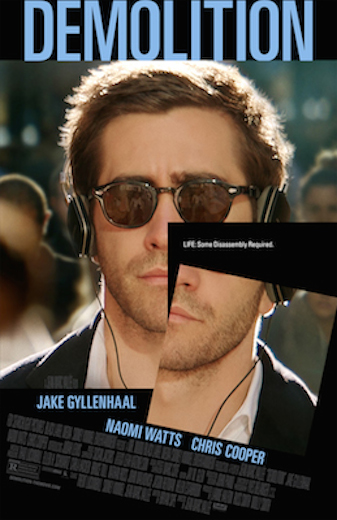 Grab a sledgehammer and smash a house to smithereens. That was part of the job description when Jake Gyllenhaal signed on to the play Davis Mitchell in director Jean-Marc Vallee's Demolition, whose previous efforts included Wild and Dallas Buyers Club.
The movie is set in motion by a convenient, often used Hollywood mainstay – a routine tragic car crash. From that point, Demolition ventures into previously unexplored territory, straying far from the mandatory tears and grief that normally accompany such a scenario. Instead Mitchell feels nothing over the loss of his wife.
The cracks in the successful financier's psychological fortitude soon begin to crumble triggered somewhat by the complaint letter he writes to a vending machine company. His beef is that their machine failed to spit out the M&Ms he paid for. What follows is a series of letters revealing startling admissions that catch the eye of the company's customer service rep Karen Marano (Naomi Watts).
Karen 's situation doesn't appear any better than Mitchell's. Money is tight for the single mom with a sexually confused teenage son, Chris (Judah Lewis). In order to scrape by she's living with her boss (C.J. Wilson) in a dilapidated section of White Plains. An unlikely alliance is formed, but being a Fox Searchlight release instead of a studio orchestrated project, Demolition doesn't promise the customary romantic ending.
Instead it sets forth the theory that in order to find liberation in his soul he must first demolish, both metaphorically and literally, the life he once knew. That includes trashing his highly profitable job working for his father-in-law (Chris Cooper) and giving that sledgehammer quite a workout.
During a round of interviews at a New York hotel, the 35-year-old actor employed the word "fun" often to describe the process of filming Demolition. "Fun for me was working with Jean-Marc. His style and his process was unlike any other director I've ever worked with. I mean all the sort of trappings and vanity that exist in most productions, and the bulkiness and the cumbersome quality of moving a crew around, he's eradicated from this process.
"Nothing is lit. There is no makeup. Everything is handheld. You never know really where you're headed to next. We were shooting in a building on the 55th floor in the Financial District and then we took the elevator down. He threw a camera on his shoulder and he's like, 'Here are some earphones and some music. Go dance around in a crowd of people.' That happened unexpectedly at the end of a day we finished early and it was fun. If I had time to think about it I probably would not have done that."
Gyllenhaal ended up dancing on the bustling streets of Manhattan two whole days with a sense of total abandonment. His blue eyes sparkling, he laughingly confessed, "Once you pass through embarrassment, which is a brutal passage oftentimes, you find yourself in a land of excitement and elation and pride. I did and then I watched what I looked like and I went back to embarrassment again. But at the time it felt good just to express myself."
Gyllenhaal, who won a BAFTA Award for his turn in Ang Lee's Brokeback Mountain, opposite Heath Ledger, feels a certain comradeship with Mitchell's character. He explained, "I think this character is closer to me in certain ways. I mean I haven't experienced what he experienced in the same way so I can't really tell you, but I think I've spent a number of years playing characters that are very far from myself.
"I also always find the piece of me that is like the character I'm playing. I believe we have beautiful, loving, murderous, thoughtful, thoughtless, sensitive and insensitive feelings all the time. So if you let them pass through you can grab onto the one that's helpful for the part you're playing."
Has he ever shared Mitchell's desire to start over again? "In my career, definitely," he said. "I had the privilege of starting really early when I was very young. As a result in my 20's, or whenever you're not supposed to know what you believe or what you are supposed to say, I put on a really good act of thinking I knew or at least tried to convince people I knew. So I was making choices based on what I thought people would like. Then at a certain point, I went 'what am I doing?' Let me just do the things I like and if people don't like me for it, then so be it."
As for that early start, Gyllenhaal made his debut in 1969's City Slickers. More recently he's been seen in 2012's End of Watch, 2013's Prisoners, 2014's Nightcrawler, and last year's Southpaw. Later this season, he returns with Amy Adams and Michael Shannon in Nocturnal Animals. Based on Austin Wright's book Tony and Susan, he portrays a victim of the Boston Marathon bombing, who helps the police track down the killers.
About the Author
Winnie Bonelli is a former entertainment editor for a daily metropolitan New York City area newspaper. She is passionate about movies and television and loves to take readers behind the scenes.