Jack Ryan: Shadow Recruit Combo Pack
Category:
Blu-ray's and DVD's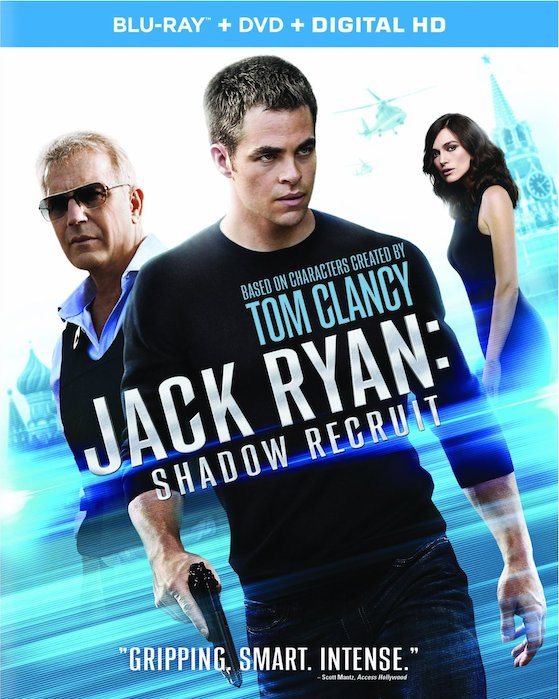 Chris Pine takes over the role of the iconic Jack Ryan character created by Tom Clancy. Jack Ryan: Shadow Recruit is the prequel, so to speak, to the other Ryan films. It tells the story of how Ryan was recruited by the CIA and his first "mission" to save the world.
Keira Knightley co-stars with Pine as Cathy Muller, Jack Ryan's girlfriend who accidentally stumbles on his secret job and ends up becoming an asset in his undercover activities. Also starring in this film is Kevin Costner who plays Thomas Harper, the man who recruited Ryan into the CIA and who is his handler in his first mission. Costner's somewhat laid back character adds a great deal of humor to the intense story.
Jack Ryan uncovers a plot that will destabilize the American economy and bring down the country. He also discovers a simultaneous plan to bomb somewhere in the U.S.
Over the years Jack Ryan has been played by Harrison Ford (Clear and Present Danger in 1994 and Patriot Games in 1992), Alec Baldwin in The Hunt for Red October in 1990, and Ben Affleck in The Sum of All Fears in 2002).
Bonus features on this DVD + Blu-Ray + Digital HD combo pack include several featurettes. In "Jack Ryan: The Smartest Guy in the Room," the character is described as "not your grandfather's Jack Ryan." Viewers get an in-depth insight into this film that was originally going to star Harrison Ford when the idea of a new Jack Ryan movie was being floated around. This movie is the only one, so far, not based on a Tom Clancy book. It is a "reinvented" and "reimagined" story of the famous CIA operative.
Another featurette looks at Sir Kenneth Branagh, who not only plays the villain in the film, but also directed the movie. Branagh's directing style is discussed. He "takes pleasure in his job" and "guides" the actors.
The history between the USA and Russia is also examined, as well as Jack Ryan himself. Ryan is more intellectual than other super-spies of film. He doesn't have the gizmos and gadgets of James Bond. He uses his brain more than his brawn. Besides the featurettes, there are deleted and extended scenes.
Jack Ryan: Shadow Recruit is rated PG-13 for sequences of violence and intense action, and brief strong language.
About the Author
Francine Brokaw has been covering all aspects of the entertainment business for 20 years. She also writes about technology and has been a travel writer for the past 12 years. She has been published in national and international newspapers and magazines as well as internet websites. She has written her own book, Beyond the Red Carpet The World of Entertainment Journalists, from Sourced Media Books.
Follow her on Twitter
Like her on Facebook