Jack Lemmon and Shirley MacLaine in 'The Apartment'
Category:
Blu-ray's and DVD's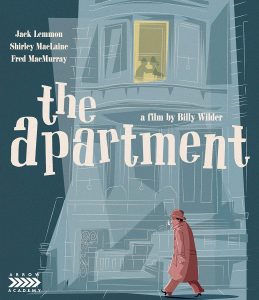 Jack Lemmon and Shirley MacLaine are adorable in this 1960 romantic comedy. The Apartment also stars Fred MacMurray and Ray Walston.
Bud Baxter (Lemmon) is a hard-working cog in a big company. He's rising up the ladder because of the location of his apartment. He lives in a building that is convenient for all the executives to take their female friends where their wives won't see them. So, to get ahead in his job, he loans out his key. But the problem is, his apartment is getting so much use the poor fellow isn't getting enough sleep himself.
He has no choice in the matter: if he refuses to continue with this plan and loan his key to the executives, he will be fired.
In another plot twist, Baxter is smitten with the elevator girl in his office building, Fran Kubelik (MacLaine). Unbeknownst to him, she had had a brief affair with the company's personnel director, Jeff Sheldrake (MacMurray), the man who eventually gives Baxter one promotion after another. Of course, he does so only after insisting Baxter only share his centrally located apartment with him. Baxter has no idea the woman to whom he is attracted is renewing her affair with Sheldrake. Eventually, things come to a head and Baxter is put to the test when it comes to Fran and Sheldrake. Can he step aside and be happy in his new position in the company while the woman he loves is shacking up with his boss in his own apartment?
This is a dark romantic comedy and MacLaine and Lemmon are a cute couple. And as usual, Lemmon is entertaining and gives another great performance. This man could do drama and comedy equally well, and in the case of The Apartment, he happens to do them both together. The two actors reunited three years later for Irma La Douce.
Many bonus features add to this Blu-ray edition. There is a half hour "making of" feature, focusing on the relationship between Wilder and Lemmon, and an interview with actress Hope Holiday, who has a small part in the film, she explains how she got the role, which is an interesting story in itself. And film historian Philip Kemp discusses how this movie is Billy Wilder's blackest comedy.
The Apartment is not rated, however, due to subject matter involving sex and suicide as well as other adult issues, it is not meant for young viewers.
About the Author
Francine Brokaw has been covering all aspects of the entertainment industry for over 25 years. She also writes about products and travel. She has been published in national and international newspapers and magazines as well as Internet websites. She has written her own book, Beyond the Red Carpet The World of Entertainment Journalists, from Sourced Media Books, is the entertainment correspondent for Good Day Orange County, and has her own TV show, Beyond the Red Carpet, on Village Television in Orange County.
Follow her on Twitter