It's vacation time with the tiger family on 'Daniel Tiger's Neighborhood'
Category:
Television
On May 8, 2017 Daniel Tiger and all his friends and family return for another season of great fun. The one-hour season premier, "Tiger Family Trip," is a colorful and musical experience for preschoolers.
For us humans, summer is quickly approaching and that means vacations. It's the same for Daniel and his family. They embark on Trolley for a visit to Grandpere. Anyone who has ever traveled with a child has heard, "Are we there yet?" That's the same for the Tiger family. Daniel gets a little impatient on the journey.
Luckily for Daniel, mom has made a map of all the new things they will see and experience on their excursion. First they take a winding road, then have fun on the Dinosaur slide, then visit the butterfly garden. All of these experiences are new for Daniel and Margaret. They are all "Tiger-tastic."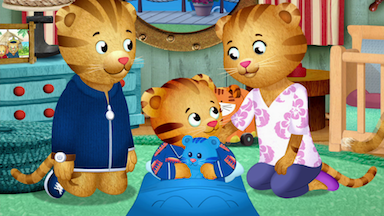 The journey to Grandpere's is the first half of the show. The second half is all the fun and new experiences at Gandpere's house. First the family enjoys dinner outdoors next to a fire. Then Daniel gets to sleep in his sleeping bag.
The next morning they again get to eat outside, which is exciting for the little tigers. They all get on Grandpere's boat to travel to Tiger Island where they are "adventure tigers together." Daniel and Grandpere go on an exciting treasure hunt and everyone has fun and new experiences on their vacation.
"There are so many things to do and see when you're on a trip with your family!"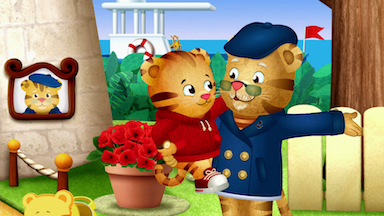 "We're thrilled families across the country will be able to join us on 'Tiger Family Trip' as Daniel deals with new and exciting experiences," said Lesli Rotenberg, Senior Vice President and General Manager, Children's Media and Education, PBS. "As research continues to show the positive effects Daniel Tiger's Neighborhood has on children's social and emotional learning, we hope this one-hour special will offer helpful road trip strategies for families on the go."
"New experiences, such as a family vacation, can be scary as well as exciting for preschoolers, and we're delighted to introduce important – and fun – strategies in this new special that can help make road trips a smooth ride for both parents and young children," said Paul Siefken, President and CEO of The Fred Rogers Company. "Daniel Tiger's Neighborhood addresses the issues that affect families most, and the episodes premiering on PBS KIDS this spring are all designed to help young viewers learn and grow."
"Tiger Family Trip" and "Going to See Grandpere," are two books now available on Amazon. The "Daniel Tiger's Neighborhood Travel Album," features 13 new songs and is now available on iTunes, Amazon, Google Play, and Spotify. And the DVD of "Tiger Family Trip" hits the shelves may 16.
Daniel Tiger's Neighborhood is filled with Grriffic fun for everyone!
"Tiger Family Trip" premiers Monday, May 8, 2017 just in time to prepare for your own family vacation.
About the Author
Francine Brokaw has been covering all aspects of the entertainment industry for over 20 years. She also writes about products and travel. She has been published in national and international newspapers and magazines as well as Internet websites. She has written her own book, Beyond the Red Carpet The World of Entertainment Journalists, from Sourced Media Books.
Follow her on Twitter