'It's a Wonderful Life' Platinum Anniversary Edition Blu-ray
Category:
Blu-ray's and DVD's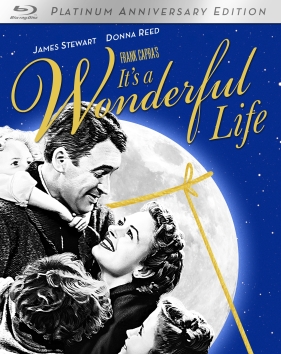 In 1946 Frank Capra's It's a Wonderful Life began a holiday tradition that has lasted 70 years. This beloved film has made us laugh and cry and entertained generations of viewers.
The Platinum Edition Blu-ray set contains both the original black and white version and a colorized version. Many die-hard classic movie lovers dislike colorized versions however many of us enjoy watching our favorite films in color. This edition allows for both ways to view the film.
The story is about George Bailey (Jimmy Stewart), a loveable family man and a friend to all. Unfortunately, George finds himself in a difficult and unforeseen situation and gets disillusioned with life. His despair leads him to contemplate suicide. After all, as he is told, he is worth more money dead than alive.
An angel named Clarence (Henry Travers) appears and tries to help George. When George says everyone would have been better if he hadn't been born, Clarence shows him what life would be like for his friends and family had there never been a George Bailey.
Most of us think at one time or another that our lives don't amount to much and we have made no mark on the world. What George discovers is that he really did some good things in his life and helped others without his knowledge. The little things we do add up to big things in the end.
Mary Bailey (Donna Reed) is a loving wife and mother. Her character is a beloved woman in movie history. And the town of Bedford Falls has become synonymous with a quaint small town life. Like George, this film has had an effect on people through the years with its characters, location, and dialogue. "Every time a bell rings an angel gets his wings."
The disc includes a "Making Of" feature hosted by Tom Bosley. He describes various aspects of the film and how Capra's stories are always uplifting and pleasant for all. The story actually began as a little story on a Christmas card called "The Greatest Gift." RKO bought this story for a mere 10 thousand dollars. A few years later Frank Capra bought it from the studio for the same amount. Originally the studio wanted the project for Cary Grant. But when Capra took control he cast his first choice, Stewart, in the lead.
Capra's first choice for Mary was Jean Arthur but she had other commitments. He settled on Reed and with good consequences. She inhabited the role with delight and the spirit it needed.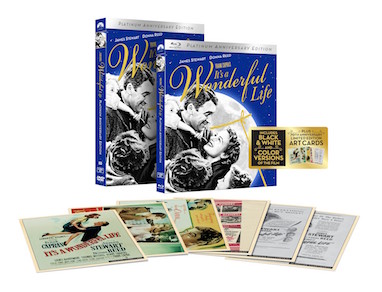 Bosley discloses a lot of behind the scenes information about making this timeless movie. For instance, the 1946 production code prohibited many words so the dialogue went through minor changes. Can you believe they weren't allowed to use the word "jerk" in this film?
The movie was shot on a set in Encino, California in the middle of a heat wave. Think about that when you watch the cold, snowy scenes. There are plenty more interesting tidbits disclosed in this documentary. The edition also includes collectible art cards of images and ads from the film, making this a great gift for any classic movie fan.
It's a Wonderful Life, whether in black and white or color, is a wonderful experience for families to share especially during the holiday season. It's rated PG for thematic elements, smoking, and some violence.
About the Author
Francine Brokaw has been covering all aspects of the entertainment industry for over 20 years. She also writes about products and travel. She has been published in national and international newspapers and magazines as well as Internet websites. She has written her own book, Beyond the Red Carpet The World of Entertainment Journalists, from Sourced Media Books.
Follow her on Twitter