'It's a Wonderful Life' now on brilliant 4K
Category:
Blu-ray's and DVD's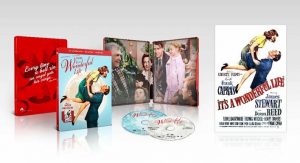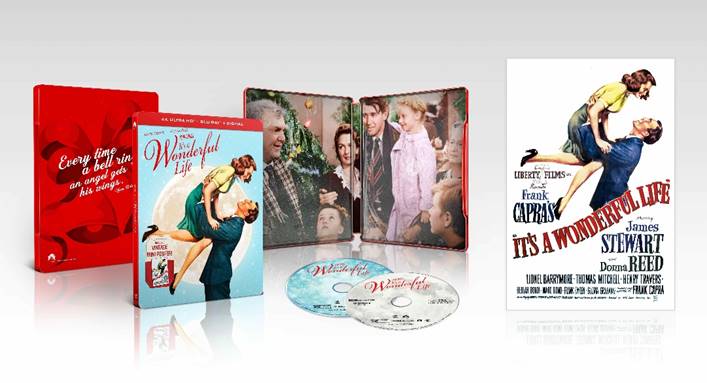 It's that time of year again. It's time for another release of the classic holiday film It's a Wonderful Life. This 1946 black and white classic is an annual viewing experience for families across the country. It's filled with love, humanity, and plenty of hope.
James Stewart stars as George Baily and Donna Reed is his girlfriend/wife. The story takes place in a small New England town where George is a popular man but due to circumstances beyond his control he faces a terrible crisis of conscience. He thinks his life is worthless and he is a disappointment to the town.
Then he meets Clarence (Henry Travers), and angel, who shows him what the lives of everyone around him would be like had George never been born. Through this journey to an alternative world, George discovers that he has made a great impact on people, even though at the time he never knew it. He discovers we are all interconnected and his life has had meaning.
The new edition comes in a collectable tin box with both a 4K and a colorized Blu-ray disc. Viewing the film in 4K is brighter and sharper than ever. Also included in this collectable set is a movie poster as well as some bonus features.
The bonus features include a fun look at the wrap party as well as a look at how the film was restored from the old version to the beautiful film we are able to view today. There is also a very interesting look at the making of the film. The story takes place in the winter at the holiday season. The movie was filmed in the summer in the San Fernando Valley in California. It was a heat wave so even though the characters were interacting in the cold, they were actually sweating under their costumes. Now that's acting! The filmmakers also had to come up with ways to create the visuals. Instead of the usual colored cornflakes for snow, they used foam, which is widely used today. Because the director, Frank Capra, knew Stewart was best on his first take, and if they used corn flakes that crunched when walked upon requiring the actors to dub their lines in later, this new way was much better. Creating the sound of wind and a storm was also a task that had to be addressed. But they did it and did it well. The movie was nominated for 5 Academy Awards.
Gather your family and celebrate life and love with It's a Wonderful Life. Ring those bells. After all, "Every time a bell rings, an angel gets his wings." The movie is rated PG for thematic elements, smoking and some violence.
About the Author
Francine Brokaw has been covering all aspects of the entertainment industry for over 25 years. She also writes about products and travel. She has been published in national and international newspapers and magazines as well as Internet websites. She has written her own book, Beyond the Red Carpet The World of Entertainment Journalists, from Sourced Media Books, is the entertainment correspondent for Good Day Orange County, and has her own TV show, Beyond the Red Carpet, on Village Television in Orange County. She is a longstanding member of the Los Angeles Press Club and the Television Critics Association.