It Ain't Over… by Marlo Thomas – Book Review
Category:
Books and Music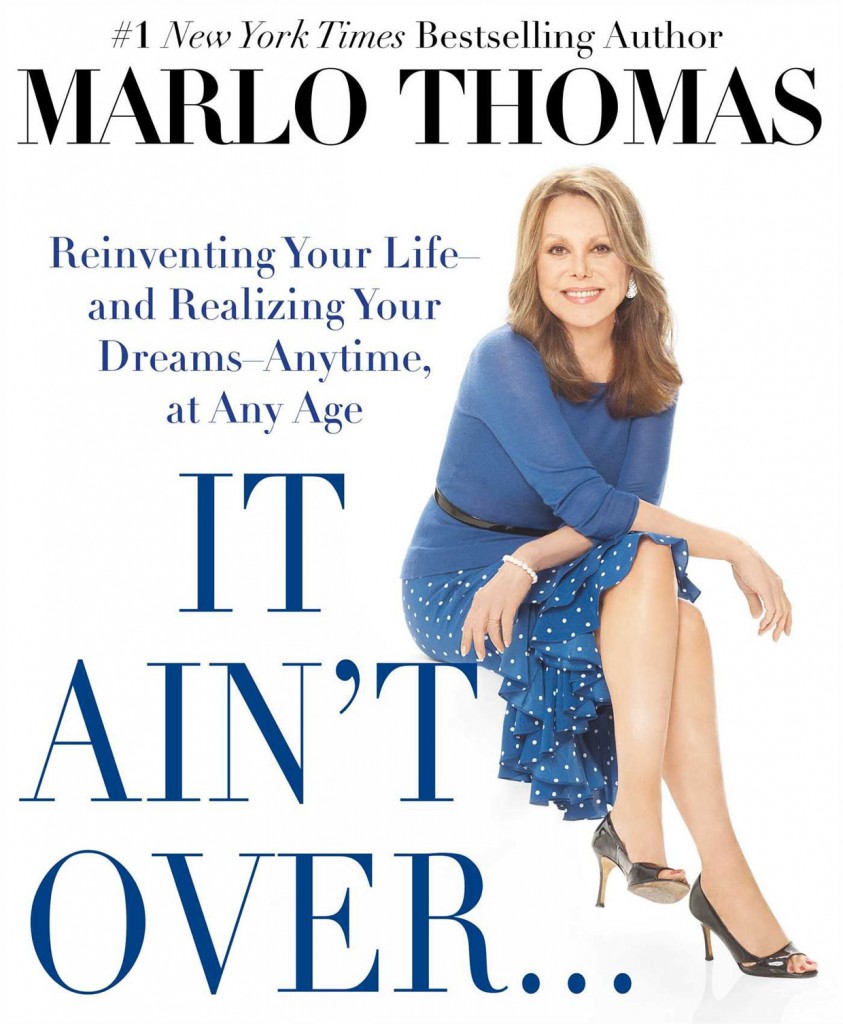 It' Ain't Over…Till It's Over is the newest book by Marlo Thomas. The book is not about Thomas. Rather, it is a collection of experiences by a variety of women who have changed their lives and made their dreams come true. This is a book for anyone who feels stuck in their lives, who has ideas and interests, and who thinks it is too late to do anything about them.
Ms. Thomas has dedicated her life to helping women. Her TV series, That Girl, which ran from 1966-1971, was one of the first shows that focused on a workingwoman who wasn't looking for a husband and who was happy with her life as it was. Thomas has also penned several books, each with inspiring words for all readers.
Most recently, Marlo has been a contributor to the Huffington Post and has her own website where she brings interesting stories to the viewers. Her webseries is titled Mondays with Marlo.
As Thomas explains in the Forward, the book is "60 inspiring stories." And they are definitely inspiring. Each story is about a woman who has taken the bull by the horns, so to speak, and changed her life. Age doesn't matter. Careers and family aren't the focus of these stories. The women have either taken an idea out of necessity or something they love to do, and created a new lifestyle from it.
The first chapter tells the story of a 54-year-old woman who saw the need for a cellphone case that would hold other necessities and took that idea forward. Today her little idea that was meant to downsize and ease the problem of never finding what she needed in her purse is now a huge business.
There's a story of a woman who enjoyed bicycle riding and inadvertently created a budding jewelry business out of bike chain links. With 60 inspiring stories of women who have altered their lives for the better, most readers will finish the book with ideas of their own. The stories show how creative we are, how drive and determination can spur us on, and how sometimes, something innocuous can be the impetus to bring out the encouragement we need to follow our dreams, whether we know it or not.
It Ain't Over… is a book that doesn't have to be read at once. It's a great book to pick up and read a few stories from time to time for a little pick-me-up, and let's face it, with all the stress in our lives, we can all use some motivation to spur us on.
It Ain't Over…Till It's Over: Reinventing your Life – and Realizing Your Dreams – at Any Age makes a great gift for any woman struggling with her life, job, or is simply frustrated with the road she is traveling. It gives women the inspiration to follow their ideas. Do you love to bake? Do you love to act? Do you love to dance? Follow your heart. Perhaps by reading how others succeeded, you can get figure out how to bring your ideas to fruition.
Hardcover: 400 pages
Publisher: Atria Books (April 8, 2014)
ISBN-10: 1476739919
ISBN-13: 978-1476739915
About the Author
Francine Brokaw has been covering all aspects of the entertainment business for 20 years. She also writes about technology and has been a travel writer for the past 12 years. She has been published in national and international newspapers and magazines as well as internet websites. She has written her own book, Beyond the Red Carpet The World of Entertainment Journalists, from Sourced Media Books.
Follow her on Twitter
Like her on Facebook