Island of Lemurs: Madagascar Combo Pack
Category:
Blu-ray's and DVD's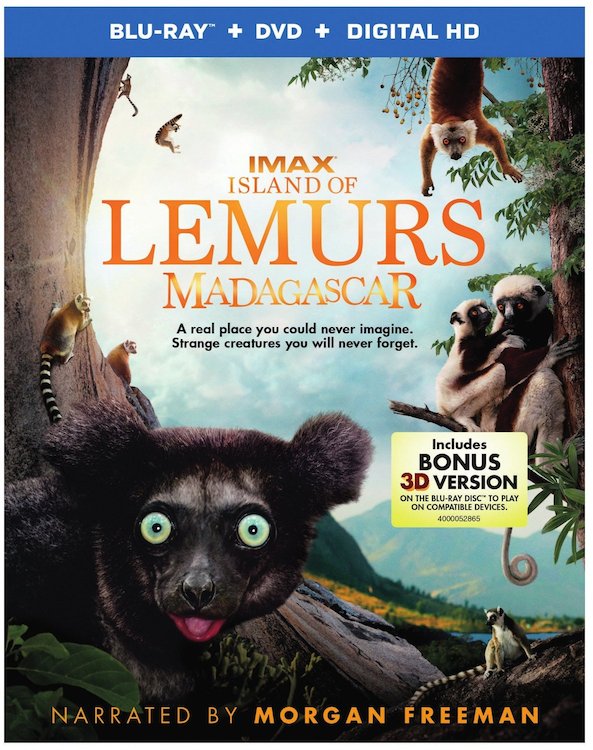 Morgan Freeman narrates this amazing story of the history and future of lemurs in the only place on earth where they reside – Madagascar. Island of Lemurs is a spectacularly photographed film from the folks at IMAX, showcasing the life and difficulties of the lemurs, who are really amazing animals.
Lemurs are the "most ancient primates alive today." They outlived the dinosaurs. The name "lemur" means "wandering spirit" and these adorable little fellows will have you saying "Aww" throughout the film.
As with many animals, their survival is in danger. Human encroachment on the island and forest fires have endangered many species and it's up to people to turn around this situation. For over 60 million years lemurs have roamed the lush land of Madagascar but their numbers are dwindling, thanks to humans. It is up to us to save them "one generation at a time."
This spectacular film is not only educational but it is also memorable. Several of the over 100 species of lemurs are highlighted in the movie. And the lemurs are surviving today because of the efforts of Patricia Wright, a primatologist who is part of the film.
Whether they are singing, dancing, jumping, climbing, or walking, viewers will find themselves thinking – or in my case saying out loud – "they're so cute."
Bonus features on the Blu-ray include a "making of" featurette highlighting the different habitats and species of lemurs as well as other unique critters on the island. Plus, viewers will see how the filmmakers were able to capture the lemurs in their habitats, in many instances via a hot air balloon!
Another bonus is the story of the lemurs, and in yet another featurette viewers learn about Patricia Wright and her mission to save the lemurs. Viewers also get to see a 13-day-old Indri lemur. Try watching that and not gushing over the sweet, innocent little face. Five facts about Indri lemurs are discussed, as well as interesting facts about the Indri lemurs, the ring-tailed lemurs, the mouse lemurs, the bamboo lemurs, and the Verreaux's sifaka lemurs.
Island of Lemurs: Madagascar is a fun and interesting film about nature's greatest explorer and true survivalists. Lemurs are not only adorable but they also have a long history on the planet. Hopefully this film will help gain awareness for their survival so future generations will know and be able to see a lemur. Again, I challenge anyone not to be touched by these sweet little fellows.
The combo pack includes a DVD, a Blu-ray, 3-D Blu-ray, and Digital HD. Island of Lemurs: Madagascar is rated G for all audiences. It is definitely a cute and educational film for the entire family.
About the Author
Francine Brokaw has been covering all aspects of the entertainment business for 20 years. She also writes about technology and has been a travel writer for the past 12 years. She has been published in national and international newspapers and magazines as well as internet websites. She has written her own book, Beyond the Red Carpet The World of Entertainment Journalists, from Sourced Media Books.
Follow her on Twitter
Like her on Facebook